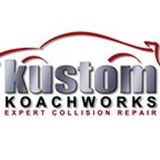 Quality is not expensive, it is priceless!
~Kustom Koachworks Philosophy
Phoenix-Mesa, AZ; Houston, TX; San Antonio, TX; Chicago, IL; Philadelphia, PA (PRWEB) January 24, 2013
Teaming up with PageViews Interactive LLC, Kustom Koachworks announces the launch of its "Express for Less" service option. These collision repair specialists are already the established experts for auto body repair Tempe residents have come to rely on for a variety of repairs. The "Express for Less" program now benefits drivers with older cars, motorists who choose not to file an insurance claim and anyone who just needs some minor fixes to a vehicle before selling it or trading it in.
"Bad things happen to good vehicles," say the experts at Kustom Koachworks. Many of these bad things are small in nature and may be little more than a scratched fender or a truly minor collision impact. The "Express for Less" program helps drivers keep their insurance premium costs low by offering a workable cost-effective solution to fixing the dings, bumps and scratches that happen during daily driving. Rather than having an insurance company pick up the bill and fix the scratched bumper, which will usually lead to an increase in premiums, Kustom- Koachworks has set up a number of service bundles that reduce the costs of typical repairs by 20 percent to 50 percent.
Body panel repair, paint-less dent repair, bumper repair or replacement, paint chip touch-up, curb rash fixes for wheels, minor collision repair services and parts replacement are some of the repairs offered under the new service option. Kustom Koachworks points out that these repairs are primarily cosmetic in nature. Having this work done will have a huge impact on a vehicle's trade-in value if the motorist intends to upgrade a vehicle. Drivers who love their older rides appreciate the cost-saving service option to keep their vehicles looking their best in spite of daily use.
About PageViews Interactive LLC
PageViews provides expert SEO services for companies of all sizes. Customized online marketing strategies heighten brand visibility and allow businesses to reap greater returns from their online marketing investments. Visit PageViews Interactive LLC online at http://www.pageviews.com/ or call 480-556-9752.
About Kustom Koachworks
In business since 1982, Kustom Koachworks provide the reliable auto body repair Tempe locals have come to rely on. Also offering auto body repair Scottsdale residents appreciate, it is the auto body shop Mesa locals frequent that greatly appreciates the setup of the "Express for Less" service option. Kustom Koachworks has earned an A+ Better Business Bureau rating. The company handles minor repairs as well as contract work for-major auto collision insurance companies. Find Kustom Koachworks online at http://www.kustomkoachworks.com or call 480-829-8048 for an appointment.