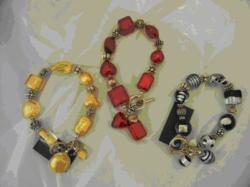 Los Gatos, CA (PRWEB) January 15, 2013
To celebrate the beginning of the Carnevale season, Gioia Italian Art and Products, a distinctive online Italian art and gift boutique, is pleased to announce that they are offering a discount on Venetian masks, for men and women and Murano glass bead jewelry from the Venetian Island of Murano. To receive the 25% discount, online shoppers should enter the word "bella" at checkout.
January brings a new year and the beginning of the Carnevale Season of costumes, merriment and the continued colors and joy of the art world. In Venice, the streets become filled with elaborate costumes of the finest fabrics and colors and the masquerade balls that people flock to from all over the world. This begins the season of the Masquerade Balls that fill the calendar with excitement and mystery, and raise much needed funds for non-profit organizations in the community.
At Giola Italian Art and Products, guests will discover an array of beautiful masks and handcrafted Italian beads jewelry, including several Murano glass bead bracelets.The beads used in their Murano glass bracelets are hand blown glass from the famous island of Murano in Venice, Italy and are interspersed with sterling silver beads to produce a unique piece. The Venetian jewelry collection at Giola Italian Art and Products also includes handcrafted necklaces, pendants and numerous other pieces.
Gioia Italian Art And Products also features a selection of Venetian masks, Italian Ceramics, Inlaid Wood Sorrento, and other Italian gift ideas for special occasions. For more information about Gioia Italian Art and Products, including a photo gallery of their beautiful Italian jewelry and Venetian masks, visit their website at http://www.gioiacompany.com or call (408) 329-9169 for information about Mask Workshops and Custom Jewelry or to schedule an appointment.
About the company:
Gioia Company Italian Art works directly with dedicated Italian Artisans to bring the finest Italian gifts and custom artworks in the Italian Tradition. These Italian Heritage Art pieces make unusual gifts for Italian weddings, birthdays, anniversaries or other special occasions. The unique Italian treasures will remind one of the sights, smells and experiences of Italy over and over again.
Each piece is professionally wrapped and carefully shipped to any destination of choose. The Gioia Italian Gifts Online shopping experience is available at select Italian Festivals, wineries, fine art galleries, and online at http://www.gioiacompany.com.