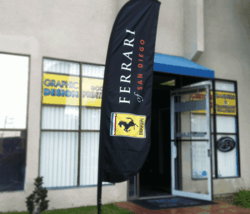 Quality is the goal throughout every project
San Diego, CA (PRWEB) January 23, 2013
Santora Media Group (SMG) is now the go-to design firm for some of the most elite brands in the world. Big names such as Nike, Lamborghini, Maserati, and Ray Ban are just a few of the global companies that trust their marketing and advertising graphic design to SMG with a confidence that comes from knowing that they are in very capable hands. Whether it is a fresh logo design, an eye-catching trade show display, or a set of business cards for executives, SMG has what any business needs to make their company stand out.
SMG was founded in 2002 and has been growing a loyal client base ever since. This multi-faceted organization offers a multitude of products and services including printing services such as brochures, flyers, posters, company letterhead, stationary and business cards. They offer their graphic design services to produce clean, professional branding and logo design that boosts business unlike any other advertising agency.
The aspect of SMG's company that is most impactful to their thousands of loyal clients is their versatility. The huge variety of media design packages that they have available gives them the edge they need to be able to complete orders on a global level while also providing the same high quality design and customer service to small local businesses as well. Their talented design team provides the same amount of dedication to every client no matter how big or small they are.
Although no advertising agency is better equipped to promote the business then SMG themselves, the unique thing about this company is that most of their promotion comes from client referrals and from their products. Not only do they provide excellent representation for their clients' companies, but other businesses take notice of the high quality, professional creativity that goes into creating the promotional material which causies them to bring their business to SMG as well.
Another unique aspect of SMG is the level of customer care that they offer from start to finish. The process starts with consultation between the client and the creative team to determine company goals and which packages and products would best fit their needs. Next the design team creates the graphics under the supervision of the creative director and the client who has the final say in all decisions. The graphics go through the proofing, revision and approval stages and then move into production and fulfillment.
Once the order is fulfilled and installed, SMG works with their clients to assess and adjust the campaign to ensure its success. This is an important step in determining future campaigns and their effectiveness. The expansion of their products and services allows SMG to serve any company. Whether they need signage, printing services, photography, product launches, graphic design services, or promotional gifts on a small or grand scale, SMG has every media package a company could want and provides excellent customer support through installation and beyond. They have a proven track record of providing timely, professional products and services to businesses of all sizes and continue to serve some of the most elite brands in the world.