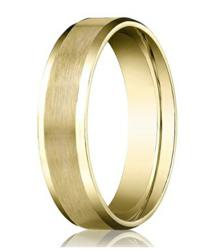 With over 200 styles of men's wedding rings marked down to below wholesale prices for the Valentine's Day Sale, shoppers looking for the perfect Valentine's gift will no doubt find it at Mens-Wedding-Rings.com.
Jensen Beach, FL (PRWEB) January 11, 2013
Valentine's savings start early this year with the newly launched Valentine's Day Sale at online retailer Mens-Wedding-Rings.com (MWR). With many couples recently engaged over the Christmas and New Year's holidays, this seasonal promotion is perfectly timed for those looking to purchase high quality yet affordable men's wedding bands for Valentine's Day.
Mens-Wedding-Rings.com has already established a reputation for consistently low prices on men's wedding rings and anniversary bands, but the Valentine's Sale has further reduced pricing on over 200 styles of rings. Wedding bands in this special sale section range from items in affordable contemporary materials like stainless steel, titanium, sterling and Argentium silver, tungsten, ceramic and cobalt chrome to higher end precious metals like palladium and platinum.
MWR carries the U.S. based designer brand Benchmark exclusively, and there are a considerable number of highly sought after Benchmark designer rings to be found in the Valentine's Day Sale section. Men's diamond rings are also proving to be particularly popular with shoppers. Mens-Wedding-Rings has an array of traditional and contemporary diamond bands on sale, with both white and black diamond options and a variety of settings in different materials to choose from.
While there are many upscale rings in the Valentine's Day Sale section at MWR, there is certainly no shortage of affordable bands. Prices start at just $15.95, with plenty of options priced under $50. These budget-friendly rings maintain MWR's high standards of quality and durability, and make for great "placeholder" wedding rings, pre-engagement rings or affordable wedding bands or anniversary rings.
"Valentine's Day is the perfect time to surprise the man you love with an unforgettable wedding band or anniversary ring," notes Mens-Wedding-Rings.com president and owner Roy Devine. "Many of our Valentine's Day Sale shoppers were proposed to over the holidays and want to present their fiancés with a wedding band in an equally memorable fashion."
In addition to the reduced prices in the Valentine's Day Sale section, Mens-Wedding-Rings offers free worldwide shipping, with all in-stock items shipped within one business day. MWR also has a 30 day money back guarantee and Lifetime Warranty on all items site-wide. Designer rings have an additional manufacturer issued guarantee with free lifetime resizing and refinishing.
About Men's-Wedding-Rings.com
Mens-Wedding-Rings is a niche online jewelry store for men's wedding rings and bands. Customers can find the best quality men's traditional and alternative wedding rings in this specialized retail environment. From major designer bands in traditional and alternative metals to non-designer rings in stainless steel, titanium, tungsten, sterling silver and cobalt, Mens-Wedding-Rings is a one-stop source for men's wedding bands and rings. Owners Roy and Judy Devine make it their goal to ensure their customers are completely satisfied, selling only high quality rings at excellent prices. MWR customers enjoy free shipping and a 30 day money back guarantee, and have come to expect the highest standards of service, selection and quality when they shop at Mens-Wedding-Rings. MWR offers the best selection of men's rings on the Internet, many of which are available through size 20.
For more information on MWR, please visit Mens-Wedding-Rings.com.
For further information, please contact:
Roy & Judy Devine, Owners
800-676-0363
roy(at)mens-wedding-rings(dot)com