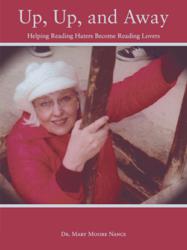 Denver, Colo. (PRWEB) January 10, 2013
Approximately six million American secondary students struggle to read and write, according to a 2011 study in Education Digest. Statistics indicate that an alarming percentage of high school graduates do not possess enough reading ability to secure career training. Dr. Mary Moore Nance wants to change this.
Nance's textbook "Up, Up, And Away" uses a reader response curriculum to enhance literacy among adults who aspire to receive post-secondary education. The curriculum is designed to turn reading haters into reading lovers by engaging students in stories and discussions based on world-renowned personalities, such as Abraham Lincoln and William Faulkner.
The textbook features 54 stories from a variety of genres and reaches out to students at their current reading level. Including materials for grade levels 5 through 22, each lesson helps students practice problem solving, reasoning development and validity of self.
"Dr. Nance did not see me as a "truck driver" who could not read or write well. She saw potential," says Dr. Ashley Olinger, Nance's former student. "She transformed someone who had done little reading into someone who finished his bachelor's, master's and doctoral degree."
Nance's guide helps adults realize their full potential, overcoming reading deficits and in spite of a modern lack of educational funds.
"Up, Up, And Away"
By Dr. Mary Moore Nance
Paperback, $27.95
ISBN: 978-1-4497-6135-6
Available at http://www.amazon.com and http://www.barnesandnoble.com.
About the author
Dr. Mary Moore Nance is a lifelong teacher who has received awards and grants for her extensive work in literacy. She is a volunteer ESL teacher and retired literacy coordinator for the Colorado Baptist General Convention. Originally from Oklahoma, she has taught in six countries and directed Baptist literacy outreach in Colorado for nine years. As a literacy coordinator for Canadian Southern Baptists, she also established literacy work across Canada. She earned her bachelor's degree in biblical studies from Bethel University, with minors in psychology and history. She earned her Master of Arts in TESL and Doctor of Education from the University of Calgary. Mary, her husband John and their children are career Christian workers.
# # #