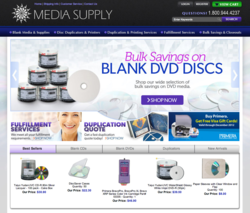 This new design gives us a great platform for featuring our upcoming new services and products.
(PRWEB) January 10, 2013
Media Supply, Inc., a leading supplier of CD and DVD duplication services, supplies and equipment, announced the launch of its new and improved website. Atlanta based design and branding firm EYStudios led the charge in creating MediaSupply.com's new website design.
Media Supply of Exton, Pennsylvania specializes in premium recordable CDs & DVDs, CD & DVD duplication services and fulfillment services. Through high-level customer support, premium products and fast order processing, Media Supply has become and established leader in the data storage industry. Media Supply's new site design improves the customer experience, and will help Media Supply to expand offerings in the future products.
"This new website design will keep our large and loyal established customer base very happy," said Jonathan Bradlee, Media Supply's President. "The ease of use for buying in quantity, accessing social networks and finding the information our clients need takes a big step forward. Plus this new design gives us a great platform for featuring our upcoming new services and products."
When asked about the Media Supply project, EYStudios founder Eric Yonge commented, "I'm excited to see the results of the redesign for Jon and the Media Supply team. Our job was to create an aesthetic that complimented the variety and quality of products that Media Supply offers. I believe we've done that in a way that's going to really impact the customer experience."
The new website features easy to use bulk pricing options, a cleaner layout of product information and specifications and a featured new arrivals section. A new advanced CD & DVD quick-turn duplication quote tool will soon be released in the site design as well.
About Media Supply:
Media Supply, Inc. offers duplication equipment, consumables, services and fulfillment, designed to meet the requirements of those wishing to distribute products and information in data, audio or video form. The company's key products and services are DVD, CD & Blu-ray Disc™ publishers, USB duplicators, duplication and fulfillment Services and premium duplication supplies. Media Supply is headquartered in Exton, Pennsylvania. For more information, visit their website at http://www.mediasupply.com or call 1.800.944.4237.
About EYStudios:
EYStudios is an Atlanta, GA based design and branding firm, specializing in the development of e-commerce stores. Founded in 2004, the company's philosophy towards increasing their clients' sales is built around delivering unique and emotional online experiences for their customers. Their team of in-house designers and developers focuses on cutting-edge usability and merchandising techniques to turn online browsers into buyers. Additional information can be found at http://www.EYStudios.com