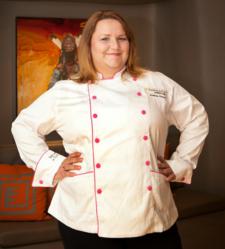 "Chef Clover is an extremely talented and innovative chef," said Dana Ortega, Marketing Director at The Inn and Spa at Loretto.
Santa Fe, N.M. (PRWEB) January 08, 2013
The Inn and Spa at Loretto, managed by Destination Hotels & Resorts, announces its Executive Pastry Chef Andrea Clover will compete on Sugar Dome, a new food competition series on the Food Network. Clover will compete on the show's season premiere airing on the Food Network on January 20, 2013 at 6 pm MST.
Sugar Dome is a battle royale in food competition, pairing artists from different disciplines into unconventional teams challenged with creating dazzling masterpieces of food art. Three teams of three battle it out in a themed challenge vying for the championship title and the show's grand prize of $15,000.
"Chef Clover is an extremely talented and innovative chef," said Dana Ortega, Marketing Director at The Inn and Spa at Loretto. "Her creativity and passion ensures that desserts at Luminaria are memorable, making every meal end on a beautifully sweet note. We are excited about her upcoming competition on Sugar Dome and wish her luck in her latest edible art creations."
The Inn and Spa at Loretto invites all locals and hotel guests to join in the Living Room Bar from 5:00pm-7:00pm on Sunday January 20th to cheer Chef Clover on and watch the show live on two screens.
Chef Clover will be on site offering complimentary mini pastries and will do a brief pastry demo from 5:30-6:00pm.
Guests can enjoy the daily Happy Hour and a half beverage pricing from 5:00-6:30pm. Guests are encouraged to dine in Luminaria after the show and receive a complimentary dessert that evening from Chef Clover.
Trained at Le Cordon Bleu, Clover joined The Inn and Spa at Loretto as Executive Pastry Chef in the spring of 2009. Her award-winning career includes two first-place wins in the annual Chocolate Fantasy Chocolatier Competition for her chocolate sculptures. Clover also won the Annual Guess Who's Coming to Dinner benefit for her chocolate dipped elder flower panna cotta, red chile raspberry compote, and blueberry foam sugar, and she took first place in the 2007 Girl Scout Cookie Caper for her Girl Scout cookie flower creations of chocolate and sugar. The General Manager of the World Pastry Competition suggested Clover audition for Sugar Dome and introduced her to the producers in Las Vegas saying, "She is your next big star."
More information is available at http://www.innatloretto.com. Reservations at Luminaria can be made by calling 505-984-7915.
For press inquiries, contact:
Jennifer Hinsley
JLH Media
505 603 8643
Jennifer (at) jlhmedia (dot) com
###
About the Inn and Spa at Loretto The inn and Spa at Loretto, an award winning, AAA Four Diamond hotel, is ideally located in the heart of Santa Fe, steps from the Canyon Road galleries and just one block from historic Santa Fe Plaza's galleries, museums, and boutiques. Eloquently blending old-world charm with world-class splendor, the exquisite Inn and Spa at Loretto reflects the culture and sophistication of its historic Santa Fe location. The hotel features 134 guestrooms, a full-service spa, casual modern dining, three art galleries and a tranquil garden. Enjoy Luminaria Restaurant and Patio for three meals daily, The Living Room for happy hour, late night dining and live music and the Spa at Loretto for holistic and complete indulgence experience.
About Destination Hotels & Resorts Destination Hotels & Resorts is a privately held hospitality management company headquartered in Colorado. With more than 35 independent, luxury and upscale hotels, resorts and gold clubs, Destination is the third largest hospitality management company in the country. The company's portfolio features more than 9,100 guest rooms, 16 golf courses and 16 full-service spas. Destination Hotels & Resorts properties are located in key metropolitan and resort markets including Washington, D.C., Seattle, Denver, San Diego, Santa Fe, Aspen, Austin, Phoenix, Portland, Palm Springs, Palos Verdes, Maui and Lake Tahoe. The company is a subsidiary of Los Angeles-based investment, development and management from Lowe Enterprises.
For a complete list of properties in the Destination Hotels & Resorts collection, please visit http://www.destinationhotels.com.