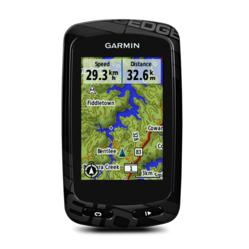 This creates a real-time tracking system for those willing to carry a Smartphone in their jersey pocket
Bozeman, MT (PRWEB) January 09, 2013
Garmin Edge 810 will upload data in real-time from your Smartphone to Garmin Connect or social sites with the appropriate app. "This creates a real-time tracking system for those willing to carry a Smartphone in their jersey pocket", says Rusty Squire, President of the Heart Rate Watch Company.
The list of new connected features includes live-tracking, instant uploads, social network sharing and even weather in real-time. "This type of technology has enormous applications for friends, family or even coaches wishing to see a rider's real-time data for rider management", says Squire. He adds, "Suffice it to say that there has never been anything like it until now".
The Edge 810 also includes a new activities profile that allows the individual to custom configure data fields and device settings based upon the types of riding they do and then switch quickly between profiles by pressing on the touch screen.
"The Garmin 800 was already the most sophisticated bike computer in the world with turn-by-turn navigation, full color maps and unparalleled metric detail" says Squire. He adds, "The new Garmin Edge 810 takes this to a whole new level with live social network sharing".
According to Squire the new Garmin Edge 810 is in stock now and available for immediate delivery. "The new Garmin Edge 510 won't be out until early to mid-February, so it is still a few weeks away from being delivered and my guess is that there will be stock shortages in the early going", says Squire.
The new Garmin Edge out front bike mount makes a good accessory purchase for the Edge 810 according to Squire. "The out front bike mount increases your field of vision significantly by placing the bike computer out in front of the handlebars and it is much more solid according to our testers".