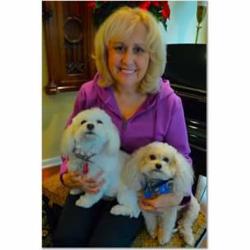 "as soon as I was diagnosed, the cancer was exactly where Bella was sniffing, she must have been trying to tell me something"
Pittsburgh, PA (PRWEB) January 17, 2013
The story about the cancer sniffing dog aired on WTAE, Pittsburgh and was one of the top viewed stories on the Yahoo home page on January 8, 2013.
Award winning children book author and breast cancer patient Susan Castriota is fortunate to have a dog with the ability to sniff cancer.
Studies have been conducted indicating that dogs have numerous beneficial effects on our health, that they lower our stress levels and help to stabilize vital signs, particularly blood pressure. The Pine Street Foundation of northern California is doing remarkable research on cancer sniffing dogs.
Susan Castriota was recently diagnosed with breast cancer (Invasive Lobular Carcinoma) for which she underwent a bi-lateral mastectomy on December 7, 2012. Thankfully, and in large part due to the love and care provided by members of her family, she is recovering well. After receiving the news of her illness, Castriota realized that Bella, one of her beloved Havanese dogs, had been paying an inordinate amount of attention to, and sniffing her breast when she would get up in the morning. Castriota gave this little thought at the time as Bella has always been a sniffer, looking for every little morsel of dog food left behind by Kiki and Wilson, her other 2 dogs. Castriota has come to learn that dogs have the ability to detect cancer and that some of them have been trained to perform this important task. The Pine Street Institute and other research organizations have confirmed this conclusion through scientific analysis. A study conducted by this organization was documented in a New York Times article of 17 January 2006 (http://www.nytimes.com/2006/01/17/health/17dog.html?_r=0) I believe that Bella detected my illness and was attempting to send a message.
Now, more than ever, Castriota deeply believes in the value of a yearly mammogram, without which her cancer would not have been diagnosed in as early a stage as it was. Whatever the cost, inconvenience, and discomfort endured in the process of having a mammogram, they pale in comparison to being told that one has advanced breast cancer. Mammograms are life-savers. Women—do not forget your yearly mammogram!
The joys of having a companion pet are manifold. The extent to which dogs can help us to learn of, and deal with illness is a fascinating new horizon which can benefit all of humanity, another way in which these beloved creatures are miracles possessing a sixth sense!
Bella is featured in the children's books "Wilson Gets Adopted!, "Wilson Learns Manners!" and "Wilson Won't Be Bullied!" from the series "Willie Wilson's Wondrous Tails" by author and illustrator Susan Castriota.
Susan Castriota, Pittsburgh, PA, 412.833.7556, wilsonsbook(at)aol(dot)com