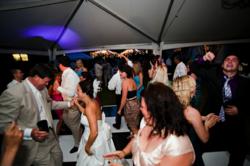 Select a DJ who has at least 5 years experience in the wedding business
Southern Shores, North Carolina (PRWEB) January 09, 2013
With the 2013 wedding season just around the corner, brides and grooms need to be thinking about one of the most important items of the day, music for their reception.
If the bride and groom have decided on a DJ, just about any song is fair game for the reception. Most couples are dreaming of a reception that has the guests screaming and singing by the end of the evening.
With a knowledgeable and experienced DJ, the perspective bride and groom can have a wonderful and fun filled reception.
Soundwavz Entertainment, located in Southern Shores, NC, has over 20 years in the wedding DJ business and provides the following tips for selecting a DJ.
1. Select a DJ who has a least 5 years experience in the wedding business. An experienced wedding DJ will know how to handle a mixed crowd that ranges in age from 8-80.
2. Check the references of the DJ. Ask other vendors about the DJ. Is he or she easy to work with? Flexible with the schedule?
3. Will the DJ provide a planner that includes "fill in the blanks" for wedding party, all events for the evening and proposed schedule for the evening?
4. What is the music plan for the evening? A good reception has a build. Have the DJ outline the recommended music genres for first hour, second hour, third hour and fourth hour.
5. Can you submit a music list? Most good DJ's welcome 30-40 of your favorite dance songs. No, the DJ won't play every song, but most of your songs should be played sometime during the evening. Be sure you can submit a "no" song list. These are songs that are not to be played under any circumstances.
6. Will the DJ send you a copy of the important songs for approval via email. You may want to review key event songs such as first dance, father/daughter and groom/ mother. The reason. Sometimes there are different versions of the song. You want the right version for your dance.
7. Equipment. Ask if your DJ has backup equipment for speakers, mixer and laptop. A good DJ has back up equipment on site for emergency purposes. Als,o ask if the DJ has back up personnel should he/she get sick.
8. Set up. Will the DJ allow plenty of set up time to make sure that everything works properly and is ready on time?
9. Memories CD. Many good DJ's will provide a "memories CD" of the key songs for the evening. These songs would include: introduction of wedding party, first dance(s) with father/daughter, groom/mother, and the good old bouquet/garter toss.
10. Finally, choose a DJ who you feel is willing to work with you and is very comfortable with any last minute changes which can often happen at any wedding reception.
If you have gone through this checklist, you are well on your way to selecting a good experienced DJ.
For more information on Soundwavz Entertainment, visit their website at http://www.soundwavz.com or call Don Vaquera at 252-261-6583.