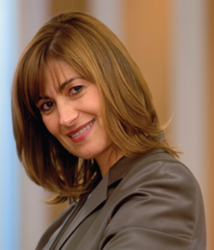 Indianapolis, Indiana (PRWEB) January 09, 2013
The Indiana Interior Design Coalition is pleased to announce the 2013 Legend IN Design Award winner, Ana Pinto-Alexander, Principal and Senior Vice President of Healthcare Interiors, HKS. With over 25 years of experience designing interiors for the country's most progressive healthcare facilities, Ana is driven by the belief that healing environments play an essential role in improving patient outcomes. Ana will be honored during the fifth Annual Legends IN Design event on May 23, 2013 at the Indianapolis Museum of Art. Hosted by The Indiana Interior Design Coalition, the fifth annual event is a celebration of all the design industry disciplines, bringing together interior designers, architects, engineers and others in the design community.
When: Thursday, May 23, 2013 – 11:00 a.m. to 1:00 p.m.
Where: Indianapolis Museum of Art
What: Luncheon and awards presentation
Cost: $55 per ticket; sponsorship opportunities are available. Contact Connie Jung at 317.471.1221 or cjung(at)jungdes(dot)com to make your reservation.
Riley Hospital for Children holds a special place in Ana's heart after spending many weeks there during the treatment of her young daughter. She continues to empathize with those caring for a sick loved one both in the designs she creates and as a member of the Riley Children's Foundation Advisory Board. Community service is an integral component of Ana's mission to improve the world through meaningful interior design.
"Though all of our nominations were award worthy, Ana's contributions to the landscape of Indiana, as well as to the design industry as a whole, were not to be overlooked," Connie Jung, IIDC board member, said. "Her firm has led the path in health care design and has been recognized not just within our state, but nationally. Her staff's enthusiasm of her nomination spoke volumes of the leadership she shows to all who meet her."
The list of Ana's award-winning work includes, but is not limited to The Riley Hospital for Children Cancer Center at Indiana University Health in Indianapolis; The Indiana University Health North Medical Center in Carmel; The Don and Dana Myers Cancer Center at Schneck Medical Center in Seymour; Seton Cove Spiritual Center at St. Vincent Hospital in Indianapolis; IU Melvin and Bren Simon Cancer Center at IU Health in Indianapolis; and the Emergency Department at Hendricks Regional Health in Danville, Ind.
Ana earned a Bachelor of Arts degree in interior design from Purdue University. She credits her childhood in Colombia, South America and extensive international travel for influencing her distinctive design perspective. In 2009, Healthcare Design Magazine named her one of the "25 Most Influential People in Healthcare Design." Ana has juried Healthcare Design Magazine's Architectural Showcase and Contract Magazine's Healthcare Environment Awards. She has spoken nationally and internationally on the importance the built environment has in the healing process. Ana has served as board member of the Indianapolis Equal Employment Opportunity and the Indianapolis Business Development Counsel.
Robert Indiana will also be recognized with the Honorary Legend Award alongside the opening of his public exhibit at the Indianapolis Museum of Art on May 24, 2013. The winner of the Emerging Talent Award will be announced at the award presentation. The Emerging Talent Award recognizes an interior designer who has practiced in their field for fewer than 10 years and whose contributions to their discipline are evidence of a great depth and understanding of their profession. The Indiana Interior Design Coalition Scholarship recipient will also be announced during the event. The winner will be a college student attending school in Indiana and pursuing a degree in design.
Past winners of the Legends IN Design Award include Jonathon Hess, Browning Day Mullins Dierdorf Architects (2012); Walter Knabe, Walter Knabe Studios (2011); Wayne Schmidt, Schmidt Associates (2010); and Sallie Rowland, Rowland Design (2009).
Indiana Interior Design Coalition
The mission of the Indiana Interior Design Coalition is to promote and elevate the profession of interior design through education, advocacy, promotion and stewardship of the practices of all interior design specialties and related disciplines. More information can be found at http://indianaiidc.org.