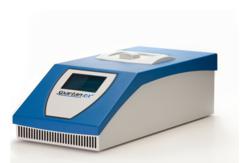 This is an important milestone in Spartan's growth strategy.
-Paul Lem, M.D., CEO of Spartan Bioscience
Ottawa, Ontario (PRWEB) January 10, 2013
Spartan Bioscience, the leading point-of-care DNA testing company, today announced that it has submitted a 510(k) pre-market notification application to the FDA requesting regulatory clearance for its Spartan RX CYP2C19 genetic test.
CYP2C19 is an enzyme that metabolizes commonly-prescribed drugs, including antiarrhythmics, proton pump inhibitors, antidepressants, and antiplatelet drugs. About 30% of Caucasians, 40% of Africans, and more than 50% of Asians and Indians carry CYP2C19 gene variants that reduce response to drugs metabolized by CYP2C19.(1,2,3,4)
"This is an important milestone in Spartan's growth strategy," said Paul Lem, M.D., CEO of Spartan Bioscience. "The United States is the world's largest market for genetic testing."
About the Spartan RX CYP2C19
The Spartan RX CYP2C19 is the first point-of-care DNA test in medicine.(5) It identifies carriers of certain CYP2C19 genetic mutations in 1 hour. These mutations are carried by approximately 30 percent of the world's population. Currently, genetic testing is performed in central labs and it takes up to seven days to get a test result back. The Spartan RX CYP2C19 has CE IVD Mark regulatory approval for Europe and other countries recognizing the CE IVD Mark. Spartan Bioscience is working towards FDA 510(k) clearance in the United States. For more information, please visit our website at: http://www.spartanbio.com/products/spartan-rx
About Spartan Bioscience
Spartan Bioscience is the leader in point-of-care DNA testing. The Spartan RX is the first complete sample-to-result, point-of-care DNA testing system in medicine. It is a fully integrated DNA collection, extraction and analysis platform, with an intuitive interface that is easy to operate—no laboratory training required. For the first time, healthcare providers and their patients can get DNA results on demand. For more information, please visit our website at: http://www.spartanbio.com.
The Spartan logo is a registered trademark of Spartan Bioscience Inc.
1. Damani SB, Topol EJ. (2010). J Am Coll Cardiol. 56:109–11.
2. Chen M et al. (2011). Atherosclerosis. 220(1):168–71.
3. Oh IY et al. (2012). Heart. 98(2):139–44.
4. Jose R et al. (2004). Fundamental & Clinical Pharmacology. 19(1): 101–105.
5. Roberts JD et al. (2012). Lancet. 379: 1705–1711.