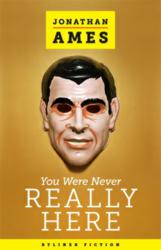 A new Byliner Original by bestselling novelist, and creator of the HBO series "Bored to Death", Jonathan Ames
San Francisco, CA (PRWEB) January 09, 2013
Jonathan Ames publishes a new e-short called "You Were Never Really Here" ($2.99) with digital publisher Byliner today. Novelist, essayist, and creator of the beloved HBO series "Bored to Death", Ames is celebrated not only for his comic sensibilities and devotion to the absurd but for his lurid attraction to inner demons. In this shocking and suspenseful new novella, the author goes darker than noir, with an ass-kicking and psychologically tormented guardian angel who rescues others but refuses to save himself.
A former Marine and ex–FBI agent, Joe has seen one too many crime scenes and known too much trauma, and not just in his professional life. Solitary and haunted, he prefers to be invisible. He doesn't allow himself friends or lovers and makes his living rescuing young girls from the deadly clutches of the sex trade. But when a high-ranking New York politician hires him to extricate his teenage daughter from a Manhattan brothel, Joe uncovers a web of corruption that even he may not be able to unravel. When the men on his trail take the only person left in the world who matters to him, he forsakes his pledge to do no harm. If anyone can kill his way to the truth, it's Joe.
"You Were Never Really Here" is a tribute to Raymond Chandler and to Donald Westlake and his Parker series, and testifies to Ames's versatility and capacity to entertain in any medium or genre. A character for the ages, Joe shows us, with every bent cop, junkie, and pimp he confronts, that it's hard to be an angel in a fallen world.
About the Author: Jonathan Ames is the author of the novels "I Pass Like Night", "The Extra Man", and "Wake Up, Sir!", the graphic novel "The Alcoholic" (illustrated by Dean Haspiel), and the essay collections "What's Not to Love?", "My Less Than Secret Life", "I Love You More Than You Know", and "The Double Life Is Twice as Good". He has been awarded a Guggenheim Fellowship and is the creator of the HBO series "Bored to Death". He lives in Brooklyn.
About Byliner: Byliner commissions and publishes original stories written to be read in two hours or less. These "e-short" stories are available on phone, tablet, or computer as part of the Byliner subscription service, and can also be purchased individually through digital bookstores such as Amazon, Apple's iBookstore, Barnes & Noble, Kobo, and Google Play. Bestselling Byliner titles include Amy Tan's "Rules for Virgins", Margaret Atwood's "Positron", Jon Krakauer's "Three Cups of Deceit", Ann Patchett's "The Getaway Car", Nick Hornby's "Everyone's Reading Bastard", and Buzz Bissinger's "After Friday Night Lights". On Byliner.com, readers get personalized access to an unmatched library of more than 20,000 fiction and nonfiction stories by the world's best writers, allowing them to easily find, read, save, and share new and classic stories by their favorite authors.
"You Were Really Never Here" is available for $2.99 as a Kindle Single at Amazon, a Quick Read at Apple's iBookstore, a Nook Snap at BarnesAndNoble.com, a Short Read at Kobo, and at Google Play. For an Advance Reading Copy or to schedule an interview with Jonathan Ames, please contact Clare Hertel at clare(at)byliner(dot)com; 505-474-6783.
###