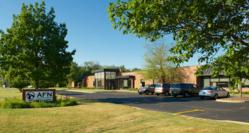 Niles, IL (PRWEB) January 10, 2013
AFN, an award-winning logistics and supply chain company, is marking its 10th anniversary this month. Founded in 2003, AFN works with six of the 10 largest US retailers and currently employs 200 people in its Niles, Illinois, headquarters.
AFN began with the simple idea of serving as a third party broker to match retailers/manufacturers with motor transportation companies to get products on store shelves as quickly and cost-effectively as possible. From day one, when the company only employed three people, AFN's guiding principle has been to treat everyone it works with - or employs - as customers. According to founder and CEO Michael Nervick, "That philosophy was pretty unusual when we first opened our doors. Over the years, it's served us very well by building our reputation and thereby helping us to become one of the fastest growing privately-held companies in the U.S."
Nervick says the company's emphasis on treating its employees well has made the greatest impact on its growth. "We wouldn't be where we are today without the contribution of every person who walks through the doors each morning," said Nervick. "We know that much of the reason we're celebrating ten years of success in a cyclical industry is because of our efforts to hire, train and reward the best people."
Today, AFN offers a wide range of logistics and supply chain services including:
Full truckload – dry van and reefer
Less than truckload (LTL)
Intermodal (Rail)
Expedited Services
High Value Shipping
Outsourced Transportation Management
Consolidation
Warehousing
"We're very proud of reaching this milestone," continued Nervick. "In a rapidly changing industry, we're looking forward to what the next ten years will bring."
About AFN
Serving motor carriers, manufacturers and retailers since 2003, AFN (formerly known as Advantage Freight Network) is an award-winning leader in freight brokerage, third party logistics and transportation management services. Currently, AFN counts 6 of the 10 largest retailers among its clients. We are known for our commitment to client service, our proactive approach to fighting cargo theft and our expertise in retail compliance. To learn more about AFN, visit http://www.loadafn.com or call 877-LOAD-AFN.