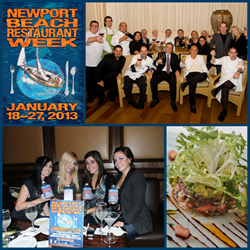 Local foodies and visitors to Newport Beach can indulge in special gourmet menus which showcase the culinary scene and talent of some of the best Chef's in the country.
Newport Beach, California (PRWEB) January 18, 2013
The Newport Beach Restaurant Association along with an esteemed group of community partners and restaurant industry leaders invite the community to the Seventh Annual Newport Beach Restaurant Week kicking off Friday, January 18 through Sunday, January 27, 2013. Save your appetite and stay on budget as this beloved citywide culinary celebration will be extended to ten days in late January, including two full weekends of bargain gourmet dining!
With record restaurant participation in 2013, Newport's finest eateries will serve special three-course prix-fixe gourmet menus at bargain prices of $10, $15 or $20 for lunch and $20, $30 or $40 for dinner all inclusive. Most restaurants will offer a minimum of three offerings per course and early reservations are recommended.
"I'm thrilled to be part of such a thriving culinary community. Over 70 restaurants will participate to build a greater appreciation of the extraordinary dining available in our City and recognize Newport Beach as a world-class culinary destination," said Jim Walker, President of the Newport Beach Restaurant Association BID and Proprietor of the legendary Bungalow Restaurant in Corona del Mar. He adds, "We look forward to introducing new customers to our restaurant through this event. In addition to being extended to ten days, the menu price points will remain $5 less than in 2011, which gives the community an added incentive and incredible opportunity to dine out frequently during restaurant week at a really great price."
Uniting traditional to ultra trendy establishments, Newport Beach Restaurant Week promotes the extraordinary diversity and culinary flair found throughout the quaint neighborhoods of Newport Beach. "Local foodies and visitors to Newport Beach can indulge in special gourmet menus which showcase the culinary scene and talent of some of the best Chef's in the country," said Sheri Drewy, celebrated restaurateur from Wilma's Patio on Balboa Island. She adds, "It was the first restaurant week in Orange County launched back in 2007, and now it has become one of the most successful restaurant weeks in the country and one of the OC's most anticipated culinary celebrations."
The community is invited to celebrate its love of food during Newport Beach Restaurant Week, which offers culinary delights and bargain three-course prix-fixe lunch and dinner menus prepared exclusively for this event at approximately 25% - 60% off regular prices. There are no tickets or passes required; simply dine at a participating restaurant. Advance reservations are strongly recommended and can be made by calling restaurants direct, or, by visiting: http://www.NewportBeachDining.com.
2013 Official Sponsors:
City of Newport Beach
American Express
Sub Zero & Wolf
Nestle Waters North America – San Pellegrino & Aqua Panna
Newport Beach Chamber of Commerce
Spa Gregorie's
SHOR American Seafood Grill – Hyatt Regency Newport Beach
Chef Works
Coast Magazine
Dining Out Magazine
Firebrand Media - Newport Beach Magazine
KDOC –TV
KOCI Radio 101.5 FM
OC Metro & OC Menus.com
OC Weekly
OpenTable.com
Orange Coast Magazine
Visit Newport Beach Inc
Yelp.com
2013 Participating Restaurants:
21 Oceanfront
Alley Restaurant & Bar
Amelia's Restaurant
Avila's El Ranchito - Balboa
Avila's El Ranchito - Cdm
Back Bay Bistro - Newport Dunes Resort
Back Bay Tavern- Whole Foods Market
Bambu Restaurant & Lounge - Fairmont
Barolo By The Sea
Bayside Restaurant
Beachcomber Cafe
Bistro Le Crillon
Bloomingdales 59th & Lex Café
Bluefin
Bluewater Grill
Brasserie Pascal
The Bungalow
Café Jardin - Sherman Gardens
Canaletto Ristorante Veneto
Cannery Restaurant
Chart House
Coliseum Restaurant - The Resort at Pelican Hill
The Counter
Crow Bar And Kitchen
Crow Burger Kitchen
Div Bar Smokehouse Barbecue
Eat Chow
The First Cabin - The Balboa Bay Club & Resort
Five Crowns
Fleming's Prime Steakhouse & Wine Bar
Fly N Fish Oyster Bar & Grill
Harborside Restaurant
Il Farro
Jack Shrimp
Landmark Restaurant
Le Pain Quotidien
Malarky's Irish Pub
Mario's Taste Of Italy
Mariposa At Neiman Marcus
Mayur Cuisine Of India
Modo Mio Cucina Rustica
Muldoon's Dublin Pub & Celtic Bar
Newport Beach Brewing Company
Newport Landing Restaurant
O'hana House
Orange Coast Winery
Palm Terrace Restaurant - The Island Hotel
Pelican Grill - The Resort at Pelican Hill
Pescadou Bistro
Pita Jungle
Port Restaurant & Bar
The Ritz Restaurant & Garden
Rockin Baja Coastal Cantina
Rothschild's Restaurant
Royal Thai Cuisine
Roy's Hawaiian Fusion
Sam & Harry's - Newort Beach Marriott
Shor American Seafood Grill – Hyatt Regency
Sol Cocina
Sol Grill
Summer House
Tamarind Of London
Ten Asian Bistro
Tommy Bahama Island Grille
The Village Inn
Wilma's Patio
Woody's Wharf
Yard House
Zen Sushi
Zinc Café & Market
Media Contact:
Peggy Fort, Director, Newport Beach Restaurant Week President & CEO
California Marketing Concepts, Inc.
About Newport Beach Restaurant Association Improvement District
The Newport Beach Restaurant Association (NBRA BID) is an official "Business Improvement District" of the City of Newport Beach. It was established to brand Newport Beach as Southern California's Premier Dining Destination. Comprised of close to 400 individual restaurant members, the NBRA BID works to cooperatively market the multitude of outstanding food service establishments and dining choices available in Newport Beach, California. Newport Beach Restaurant Association BID programming provides specific benefit to individual Newport Beach restaurants, helps to generate tax revenue back to the City and serves the community as a resource providing dining information.
About Newport Beach, California
Nestled among golden stretches of pristine Pacific coastline between Los Angeles and San Diego, Newport Beach epitomizes the casually sophisticated lifestyle of Southern California. This idyllic seaside destination is widely celebrated for its natural beauty and vibrant yachting community alongside stylish accommodations, eclectic coastal cuisine and upscale shopping. Ranked among the "Top 10 Resort Towns in the U.S.," Newport Beach is also distinguished as one of the country's "Top 10 Best Family Beaches." A mild climate and picturesque backdrop minutes from the newly expanded Orange County/John Wayne Airport (SNA) offer year-round appeal. For more information on Newport Beach or for a complimentary visitor guide, please visit our website or call (800) 94-COAST.