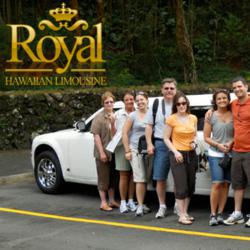 "I had the most wonderful time in Hawaii all thanks to my limo driver and tour guides! I will tell all of my friends and family about great deals I was offered."

- John Hambone of Reno, Nevada
Honolulu, HI (PRWEB) January 08, 2013
Hawaii. The name invokes thoughts of sun-drenched beaches and pig-roasts among beautiful, lush rainforests and volcano peaks. Hawaii has been called paradise on Earth and has been a dream vacation spot for millions of tourists and citizens. Responding to the increased demand to visit and vacation in this wonderful destination, Royal Hawaiian Limousines has just announced a brand new pricing schedule for many of their hottest and most luxurious limousine models!
Because of an increase in tourism throughout the travel industry, Royal Hawaiian Limousine has been able to reduce the prices on their most popular tour packages in Hawaii and transportation options. Right now, for a limited time, a small party of 4 clients can enjoy a fully stocked stretch limousine waiting for them outside of the Honolulu International Airport as a limo driver meets them at the gate. Clients will be treated to a well-known tradition upon arrival: a fresh Hawaiian lei will be presented to the clients as well as help with luggage and transportation to any hotel in Waikiki.
What about the larger crowd of tourists flying in for a few weeks of paradise? Royal Hawaiian Limousine has the perfect solution for them by offering, at a discounted price for a limited time, a fully stocked and air-conditioned Mercedes Sprinter 11 passenger transport. All luggage will be taken care of as travelers are treated to an official Hawaiian welcome including fresh leis and a smiling chauffeur!
Discounted Honolulu airport transfer services aren't the only deals that Royal Hawaiian Limousines are offering for a limited time. Their highly popular and sought after Oahu Island tours have been deeply discounted in order to better serve their clients and offer more value for a price that is easy on the wallet. This tour features the USS Missouri Battleship as well as various points of interest at Pearl Harbor and the site of the attack that happened on December 7th, 1941.
For a more in-depth tour of Pearl Harbor and the USS Arizona, location of the famed WWII memorial, the Pearl Harbor Tour has also been deeply discounted so to allow anybody with mere pocket change to visit the nationally historic site and gaze in awe of the heroism and patriotism of the U.S. sailors and Marines involved over 70 years ago. Royal Hawaiian Limousine takes pride in being able to provide such savings in order to make visiting these important and historical sites and memorials much easier and convenient for their clients!
These deals won't last long. Royal Hawaiian Limousine is Hawaii's premier limousine service and has the best fleet of luxury transports in the industry. And now that they have discounted many of their vehicles and tour packages to low and highly competitive prices, anybody visiting and vacationing in Hawaii will have something cheap and fun to do!