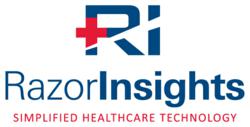 We determined RazorInsights as the best vendor to suit us on this journey based on its previous success in achieving Meaningful Use, affordable use of cloud technology, and recommendations from its current customers
Kennesaw, Georgia (PRWEB) January 09, 2013
RazorInsights, a leading provider of fully-integrated health IT solutions for Rural, Critical Access and Community hospitals, today announced its partnership with Straith Hospital for Special Surgery. Located in Southfield, Michigan, Straith Hospital has chosen to implement RazorInsights' ONE-Electronic Health Record to achieve Meaningful Use and improve efficiencies and patient safety.
"We are excited to begin our journey to achieve Meaningful Use through the implementation of an electronic health record," said Brad Bescoe, Implementation Manager at Straith Hospital. "We determined RazorInsights as the best vendor to suit us on this journey based on its previous success in achieving Meaningful Use, affordable use of cloud technology, and recommendations from its current customers."
RazorInsights' clients are achieving Meaningful Use at rapid rates via its solution's simple-user interface and single-database delivery system. Its intuitive design allows administrators and clinicians with limited technical skills the ability to quickly transition. Additionally, its innovative use of cloud technology renders seamless upgrades.
Kevin Rockholt, Michigan resident and VP of Ambulatory Services for RazorInsights, was very instrumental in securing this partnership. "We are excited as Straith Hospital is a premier surgical hospital in the Detroit metro area as well as an inpatient rehabilitation hospital that provides a cost-effective quality alternative for patients requiring comprehensive rehabilitation care for post-surgical conditions or post-medical conditions. We plan to not only help them achieve Meaningful Use in a timely manner, but also provide them with the specific tools they need throughout their care settings," he said.
RazorInsights' ONC-ATCB compliant solution encompasses pay-per-use services that, in real time, deliver its application through a browser to its customers using a multitenant architecture. In addition to alleviating its clients the burden of purchasing and maintaining servers, there is no software license to purchase. The system is scalable and upgrades are seamless. Hospitals simply maintain a low, all-inclusive monthly subscription.
About Straith Hospital for Special Surgery:
Located in Southfield, Michigan, Straith Hospital for Special Surgery is an unaffiliated, acute care, not-for-profit Hospital Corporation under IRC 501 (c) (3). Their newly-expanded facility with state-of-the-art operating rooms allows its surgeons to perform surgical procedures in an efficient, cost-effective manner with patient safety being their top priority. For more information regarding Straith Hospital, visit http://www.straithhospital.org or call 248-357-3360.
About RazorInsights:
Based in Kennesaw, Georgia, RazorInsights is a dynamic healthcare information technology company. In keeping with the principle of Occam's Razor, they have created a simplified HIS solution for Rural, Critical Access and Community hospitals. Introducing ONE (ONC-ATCB 2011/2012) — a single-database, cloud solution offering a simple user experience with cutting-edge clinical tools and industry-standardized data. Hospitals can expect to improve their performance and bottom line with ONE from RazorInsights. To register for a live product demo or for more information, visit http://www.razorinsights.com or call 770-308-4111.