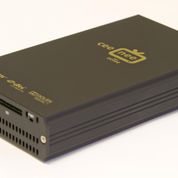 CeeNee eetee.
(PRWEB) January 11, 2013
Ceenee Inc. is introducing the product of the week, the karaoke and network media player that is also known as the Ceenee eeTee. The Ceenee eeTee can be purchased under 3 different TB's, including 1TB, 1.5TB, and 2TB. There is also a variety of exciting features that accompanies the Ceenee eeTee no matter the terabytes, which includes and are not limited to the following: customized options for customized prices, 02 USB ports, support USB Wi-Fi+ 3G/4G, can read 100,000 files, provide web access, plays karaoke, and much more. Not only that, but it can be controlled by iOS and Android devices as well.
On the usual occasion, a network media player of this type can range in the $1000 range to begin with, due to the amount of activity the media players can partake in all at once. But Ceenee offers the Ceenee eeTee from $250.00 for the smallest amount of TB (1Tb) to $450.00 for the largest amount of TB (2TB). Anyone who enjoys a product that enables them to play online applications, show and share photos, play music, and play HD movies will enjoy the Ceenee eeTee Karaoke and Network Media Player. Ceenee Inc. was started in 2010 in San Jose by Vietnamese engineers; Ceenee Inc. is the first company to create Karaoke Media that not only includes karaoke but also streaming for other various media at a significantly affordable price. Within the bundle, included is as follows:

One built-in 1.5 TB hard drive Ceenee eeTee
One Remote Control
Two AAA Batteries
One Composite AV Cable
One HDMI Cable
One AC Adapter
One USB OTG cable
The bundle varies according to the TB storage amount. Customers can visit http://www.ceenee.com or call 408-435-3004 to place an order today.
Ceenee, Inc. has been a leading consumer electronics manufacturer within both wired and wireless home entertainment systems and digital electronics since 2010. The company is headquartered in San Jose; CA. Ceenee HD Karaoke/Network Media players have been very popular, especially in the karaoke and home entertainment areas.
Ceenee is proud to sponsor the Karaoke World Championship USA 2012.
For more information, please visit http://www.ceenee.com.
For Video: http://www.youtube.com/watch?v=ck9GE3NzuL8