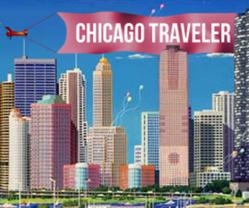 Chicago, Illinois (PRWEB) January 09, 2013
Every year, Chicago hosts events that draw in millions of people looking for a chance to eat, party, listen to music and celebrate holidays. Chicago attractions like the world-famous museums, breathtaking architecture and history and of course all of the great food attract travelers of all ages year round, but a few times a year, people from all over gather to enjoy even more of the good stuff at once. Taste 300 of Chicago's best dishes, paint the town green, get a little blue or high on endorphins this year during some of the top annual events in Chicago.
St. Patrick's Day
Some of the top cities to travel for St. Patrick's Day include Boston, Savannah, New York, and of course, Chicago. Chicago doesn't have as many local Irish inhabitants as some of the other popular cities, but they still do this holiday right with two parades and a rowdy celebration throughout the city. The biggest St. Patrick's Day parade is on Columbus Drive, but the best part about the day is the green river. Chicago dyes the river bright green every year, for over 40 years now, and on March 16, 2013 they're doing it again. Drink some green beer, watch the St. Patrick's Day themed fireworks at Navy Pier and dance along to the bagpipes all day long. There will be concerts in Chicago to choose from today as well, and not all of them will be Irish themed either. Head to the House of Blues to get into the holiday spirit with Gaelic Storm on Friday and Saturday, check out Lynyrd Skynyrd at the Congress Theatre, or get to Arie Crown Theatre to attend the 9th Chi-Town Blues Festival.
Taste of Chicago
Taste of Chicago is held every July in Grant Park and to this day is still the world's largest food festival. Choose from over 300 different menu items at this family friendly celebration of Chicago's best pizza, hot dogs, desserts, craft beers, burgers, Asian cuisines and the list continues. Every year, over 2 million people attend "The Taste" over the days it's held. Taste of Chicago 2013 will be five days again, just like old times. In addition to all the great food to choose from, every year there are several stages of live music and performances, which is free to sit and listen to or enjoy while walking around Grant Park.
The best way to plan for Taste of Chicago is probably by stretching your stomach for a few weeks building up to the event, but also booking a hotel near Grant Park. Many of the best hotels in Chicago are convenient to Taste of Chicago, and many will even offer package deals and savings to make a trip to Chicago for this event easier to commit to. Some of the best places to this July 10th-14th, 2013 for Taste of Chicago are the historic Silversmith Chicago Hotel and Suite or the Fairmont Chicago.
The Chicago Blues Festival
The largest blues festival in the world is three days long in Grant Park. More than 50,000 fans have gathered around these 5 stages every summer since 1984 to enjoy a weekend of music in Grant Park. Year round, many tours in Chicago highlight the city's rich blues music scene if June 6-9, 2013 doesn't work.
Chicago's Air and Water Show
The Air and Water is the largest spectator event in the United States and has been the longest ongoing show of its kind in all of North America, and everyone is looking forward to August 17th and 18th, 2013 for this event. The Air and Water Show is completely free to watch, and the best spots are along the beautiful Chicago lakefront from Fullerton to Oak Street. Another great way to enjoy the show is on one of the Chicago boat tours. Many of these tour companies offer special cruises for the event, which make the day even better. Choose a lunch, brunch or buffet cruise with Odyssey, Mystic Blue and Spirit of Chicago cruises and enjoy the live entertainment (either a band or DJ) as the Air and Water Show goes on.
2013 is here, and with it bring tons of great reasons to visit the Windy City. Some of the other top occasions to visit include the Chicago Marathon in October and over the summer for Memorial Day and Fourth of July celebrations. Start planning a trip to enjoy one or all of the best events this year and check out the greatest things to do in Chicago.
About ChicagoTraveler.com:
Chicago is one of the top vacation destinations in America, famous for its annual events, popular foods, architecture and top sports teams. ChicagoTraveler.com guides travelers to all the best things to do, top places to eat and deals on the best places in Chicago to stay.