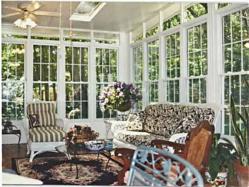 We design each addition to be the best for the home it will enhance. Our structures never look tacked on.
MIAMI, FL (PRWEB) January 09, 2013
Venetian Builders, Inc., Miami, the leading installer of custom sunrooms, patio covers, patio enclosures and screened pool enclosures in South Florida, increased its business 300 percent in Weston, Broward County, in 2012, Venetian President Christopher C. Noe said today.
"Weston is a community of quality homes, Noe said, "and it makes sense that more people there are choosing custom Venetian installations."
Weston is a community that demands quality patio enclosures, sunrooms and pool enclosures, Noe said, and Venetian Builders meets those demands with its design and installation capabilities. Census.gov notes that Weston has a median family income nearly twice that of Florida as a whole. Its homeownership rate is 6 points above the state average, according to census.gov.
Venetian Builders installs custom aluminum additions in all price ranges for Weston, West Palm Beach, Miami, Fort Lauderdale, Miramar, Homestead and surrounding communities.
"Weston homeowners want the best patio enclosure, sunroom or pool enclosure they can find for their needs, and we design each addition to be the best for the home it will enhance," Noe said. "Our structures never look tacked on."
Many Weston sunrooms and screen enclosures are built for homes along open areas that require stronger structures to meet the tough Florida Building Code, Noe said. Aluminum additions to homes along canals, lakes, golf courses, parks and athletic courts all must have stronger structures to meet code, Noe said.
"We're experienced at building to meet and exceed regulations for aluminum structures in high-wind areas," Noe said. "We use framing that derives strength from extra thickness in its walls, and yet looks very much like other framing, not at all bulky. We also use custom-made gussets that ensure strength but still look good, and stainless steel connecting hardware to stand up to years of weathering."
Venetian also can meet special needs. "We've built screen enclosures for people who live along golf courses and want protection from errant balls," Noe said. That's important, since balls hit off tees reach speeds described by golf.com as 160 miles per hour, and when struck with a mid-iron, 140 mph.
Venetian Builders does custom fabrication at its facility in Oakland Park, Broward County.
Venetian Builders offers free, detailed, written estimates. "We use a no-surprises estimate so that buyers get what they expect," Noe said. "Byers also receive the opportunity, right at their door, to examine a wide range of materials and design options before they contract with Venetian. That's an exclusive Venetian service."
For more information, call Venetian Builders, Inc., 866-596-2427.