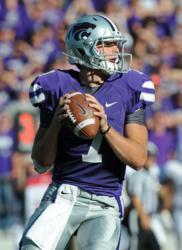 Tampa, FL (PRWEB) January 09, 2013
Collin Klein, Kansas State University quarterback and 2013 Heisman Trophy finalist, has accepted an invitation to play in the 88th East-West Shrine Game®. The Game will be held January 19, 2013 at Tropicana Field in St. Petersburg, Fla., kicking off at 4 p.m. EST and televised live on NFL Network.
Klein became the first-string quarterback for the Wildcats at the start of the 2011 season, leading the Wildcats to their first 7-0 start since 1999. He had 27 rushing touchdowns during the 2011 season, setting two national records- most rushing touchdowns in a season by a Big 12 player, and most rushing touchdowns in a season by a quarterback in the Football Bowl Subdivision.
In the 2012 season, Klein led the team to an 11-1 record and Kansas State's first conference championship since 2003. His superior performance earned him a place among the finalists for this year's Heisman Trophy Award.
Klein joins an elite list of football greats, such as John Elway, Tom Brady, Brett Favre, and 62 NFL Hall of Famers, who have played in the East-West Shrine Game along with 52 players currently on active NFL rosters.
"The East-West Shrine Game has always fielded players among college football's best," said East-West Shrine Game Executive Director Harold Richardson. "With all 32 NFL teams represented by GMs, coaches and scouts during game week, our players have the terrific opportunity to showcase their talents and get their first glimpse of life in the NFL … 'Just Like on Sunday.'"
While the teams are divided by East and West, the players come together for the beneficiary of the event, Shriners Hospitals for Children®, an international pediatric specialty health care system.
"We hope our supporters all over the country will come out and enjoy this exciting game," said Douglas E. Maxwell, president and CEO of Shriners Hospitals for Children. "Our health care system depends on the generosity of our supporters, and this game is one of our signature events benefitting Shriners Hospitals for Children."
Those who would like to support Klein and the East-West Shrine Game can do the following:
Attend the East-West Shrine Game in St. Petersburg on January 19 at 4 p.m. EST, tune in to watch the game on NFL Network, or listen live on the East-West Shrine Game Radio Network.
The East-West Shrine Game tickets are on sale now through all Ticketmaster outlets. Fans can purchase tickets for the January 19, 2013 game online at http://www.shrinegame.com, or http://www.ticketmaster.com. All game tickets are $15 general admission tickets (price does not include service fees).
About Shriners Hospitals for Children
Shriners Hospitals for Children is changing lives every day through innovative pediatric specialty care, world-class research and outstanding medical education. The 22 hospitals in the United States, Canada and Mexico provide advanced care for children with orthopaedic conditions, burns, spinal cord injuries, and cleft lip and palate.
Shriners Hospitals for Children is a 501(c)(3) nonprofit organization and relies on the generosity of donors. All donations are tax deductible to the fullest extent permitted by law. To learn more about Shriners Hospitals for Children, please visit http://www.shrinershospitalsforchildren.org.