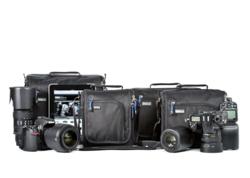 The Sub Urban Disguises are perfect for the professional photographer seeking smaller capacity camera bags and amateur photographers upgrading their bodies or using one to two lenses with their new body," said Doug Murdoch, Think Tank Photo's President
Santa Rosa, Calif. (PRWEB) January 09, 2013
Think Tank Photo announced that in February it will release a new concept in premium quality camera shoulder bags, the Sub Urban™ Disguise. The Sub Urban Disguises are designed for the professional photographer seeking smaller capacity camera bags and amateur photographers upgrading their bodies or using one to two lenses along with their new body.
The Sub Urban Disguise Series will be available in four sizes: the Sub Urban™ Disguise 5, Sub Urban™ Disguise 10, Sub Urban™ Disguise 20, and Sub Urban™ Disguise 30. Their features include a flip-top lid that folds away from the body to provide quick and unencumbered access to gear. The series meets the high-quality design standards of the original Think Tank Urban Disguise® series, but for smaller gear or photographers who want to travel light.
Gear Profiles

Key features include:

Flip top lid opens away from your body, providing easy access to gear
Cleanly styled design, does not look like a traditional camera bag
Highest quality materials
Designed to easily fit DSLR equipment
Large padded front pocket
Easily accessible front organizer pocket
Stretchable side pockets fit a water bottle
Padded zippered pocket to accommodate an iPad or similarly-sized tablet (Suburban 30 only)
Padded non-slip flexible shoulder strap
Poly-ballistic fabric ensures durability
High quality YKK zippers
Seam-sealed rain cover included in front pocket
Business card slot
Materials:
Sub Urban Disguises' all fabric exterior is treated with a Durable Water Resistant coating while the fabric underside is coated with Polyurethane for superior water resistance. It also uses YKK® RC Fuse zippers, 1680D ballistic polyester, 600D brushed polyester, 420D high-density nylon, Ultra-stretch pockets, antique nickel plated metal hardware, 3-ply bonded nylon thread. The interior features removable closed cell foam dividers, 200D polyester, PU backed velex liner, 2x PU coated nylon 210T seam-sealed taffeta rain cover, 3-ply bonded nylon thread.
Specifications:
Sub Urban™ Disguise 5

Internal Dimensions: 6.6" x 7.4" x 5" (16.8 x 18.8 x 12.7 cm) (W x H x D)
External Dimensions: 8" x 8.5" x 6.4" (20.3 x 21.6 x 16.3 cm) (W x H x D)
Maximum weight (with all accessories): 1.1lbs (0.5kg); Minimum weight: 1.0lb (0.4kg)
Sub Urban™ Disguise 10

Internal Dimensions: 8.8" x 7.4" x 5" (22.4 x 18.8 x 12.7 cm) (W x H x D)
External Dimensions: 10.5" x 8.5" x 7" (26.7 x 21.6 x 17.8 cm) (W x H x D)
Maximum weight (with all accessories): 1.4lb (0.6kg); Minimum weight: 1.2lb (0.5kg)
Sub Urban™ Disguise 20

Internal Dimensions: 11" x 7.4" x 5" (27.9 x 18.8 x 12.7 cm) (W x H x D)
External Dimensions: 12" x 8.5" x 7" (30.5 x 21.6 x 17.8 cm) (W x H x D)
Maximum weight (with all accessories): 1.6lbs (0.7kg); Minimum weight: 1.3lb (0.6kg)
Sub Urban™ Disguise 30

Internal Dimensions: 11" x 9.5" x 5" (27.9 x 22.9 x 12.7 cm) (W x H x D)
External Dimensions: 11.5" x 10" x 7.3" (29.2 x 25.4 x 18.5 cm) (W x H x D)
iPad pocket: 10.7" x 8.5" x .8" (27.2 x 21.6 x 2 cm) (W x H x D)
Maximum weight (with all accessories): 1.5lb (1.0kg) ; Minimum weight: 2.3lb (0.7kg)