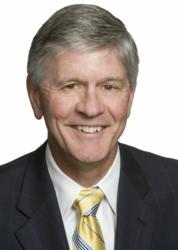 Williamsburg, VA (PRWEB) January 08, 2013
Williams Mullen is pleased to announce that President and CEO Thomas R. Frantz has been chosen as a member of the 2013 Virginia Law Foundation's Class of Fellows.
Being inducted as a Fellow of the Virginia Law Foundation is an honor for Virginia attorneys, law professors and retired members of the judiciary. Among the requirements for induction, candidates must be distinguished in the practice of law and outstanding in their communities. Tom is among 19 new Fellows to be inducted, and is the eleventh Williams Mullen attorney to join the ranks as a Fellow.
"I'm honored to be recognized among so many other distinguished individuals," Tom said. "The Virginia Law Foundation is a tremendous organization that serves an important role in the Virginia legal community, and I am humbled to be named as a Fellow."
The induction ceremony will be held on Jan. 24 during the annual meeting of The Virginia Bar Association in Williamsburg.
About Williams Mullen
Williams Mullen provides comprehensive legal and government relations services that help grow the business of our clients and the economy of our region across North Carolina, Virginia and Washington, D.C. As an AmLaw 200 firm, our attorneys and consultants strive to find the answers and solutions that help clients grow. Putting our clients' needs first has been the foundation of our approach since the firm was founded 103 years ago. Visit us at http://www.williamsmullen.com.