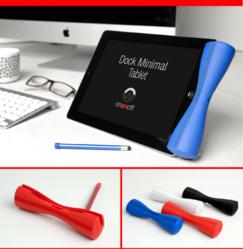 It is a privilege to share the floor with these titans of industry here at CES.
Hong Kong (PRWEB) January 08, 2013
Design and technology brand onanoff will be attending the annual Consumer Electronics Show (CES) in Las Vegas, NV to show off their latest product, the universal Dock Minimal for tablets.
What makes the Dock Minimal stand out from all other tablet stands and docks is that it works with a wide range of today's latest tablets from leading brands. The dock currently supports iPad, iPad Mini, Kindle, Samsung and Nexus tablets/eBook readers, but the team at onanoff is continuously testing and adding compatibility for even more models.
Olafsson invented the Dock Minimal because he understands the frustration of buying all new accessories after upgrading to a new model or different brand and he wanted to create a dock/stand that evolved with the latest technology.
"I'm excited to showcase the new Dock Minimal," says Petur Olafsson, creator of the Dock Minimal and founder of onanoff. "It is a privilege to share the floor with these titans of industry here at CES."
If you would like to set up an interview at CES with onanoff, please contact Joe Recomendes at (704)910-5727 ext. 305 or stop by onanoff's booth to see the Dock Minimal in action in Hall LVH; Booth number 55016 + 55018.
Onanoff is also currently running a crowdfunding campaign on Indiegogo to raise funds for the new Dock Minimal for tablets. Once the Dock Minimal has reached its $25,000 funding goal, Olafsson and his team will move the new product to production. To learn more about the Dock Minimal or to place an order, visit http://bit.ly/DockMinIndie and support onanoff's latest project.
About onanoff
Onanoff is a brand of the design and technology company, Nordic Enterprises Ltd., based in Hong Kong. The brand name is a take on the simplest, most essential feature of all electronics: the on and off button. Drawing inspiration from diverse backgrounds and experiences, the creative team focuses on designs that are both distinctive and practical while striving to make products that are simple and essential to daily life. To find out more information on the company, visit http://www.onanoff.com, Follow them on Twitter @onanoff and Like them on Facebook at http://www.facebook.com/onanoff.