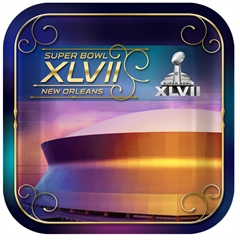 Chicago, IL (PRWEB) January 09, 2013
Windy City Novelties welcomes you to 2013! New year, new goals, new upcoming events! January marks the NFL playoff month ending with Super Bowl XLVII on February 3rd. It's the perfect time to start getting ready for the biggest game day in the football season! This day is seen by many people as one of the biggest days of the year filled with cheering, tons of food and drinks, and much more. To make the day extra special, supplies will be needed.
A Super Bowl party always has two major themes to the decorations and supplies; the game of football itself and the teams playing. Since it's the beginning of January, the teams playing won't be announced for another 2-3 weeks, general football party supplies can be gathered now with the help of Windy City Novelties!
With most products for this event, choose between team themed, new Super Bowl themed, general football theme and even color themed. Each year, the Super Bowl has a general color scheme; this year's is a mix of blues, purples and oranges. The benefit of mixing the three is not only variety, but also being able to use the colored themed or general football products for other events and using the team themed when watching them play again. Since Super Bowl Party Supplies change every year, it would be best to use them as toss-able supplies; invitations, balloons, plates, cups, napkins and plastic table covers.
A general football theme not only works for the budget savvy but also for those with little ones at home. The decor can be easily reused for a kid's birthday or for an end of the season party. These themed products would be the ones that wouldn't be thrown away; table runners, garland, snack dishes, snack trays, football drink cooler, center piece and more. One of the most recent popular items for Super Bowl parties is the inflatable referee punching bag. Upset at a call, just punch the bag!
Many hosts have started combining the February holidays in one major party. For example, a Mardi Gras Super Bowl. This is done through mixing decorations, food and games to create a fun new party theme. If mixing themes is decided, make sure there is an equal mix of both in the party. For party planning advice, tips or questions just email our Windy City party expert and be sure to check out our Windy City party ideas blog!