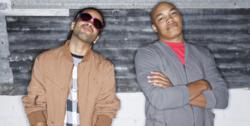 In order to be successful, one cannot be just creative in the sense of making a dope melody or a hot drum beat
Los Angeles, CA (PRWEB) January 09, 2013
The 55th Grammy Awards nominated super producers Kadis & Sean on the song "I Want You" performed by Luke James, for Best R&B Performance.
The New Age Rock Stars singer acknowledges his feelings for a special woman off his debut single (and Booth debut) I Want You.
Kadis & Sean came together with New Age Rock Stars label boss Danja behind the boards, layering gossamer backing vocals and subtle sampled accents over a brisk, head-nodding rhythm section as the New Orleans crooner lays his cards on the table, expressing a longing to end his "...broken record of one-night stands" and give his everything to the girl in question.
Natives of Boston, Massachusetts and childhood friends on a mission to change the face of the music industry, Kadis and Sean are embarking on their career focused and fearless. This dynamic duo's ability to attract industry heavyweights, while maintaining their originality proves they are a force to reckon with. Working intensely in the studio to produce songs tailored to fit the needs of each individual artist, Kadis and Sean are making a statement about the importance of individuality and creativity.
Following the same path as legends like Jimmy Jam & Terry Lewis and L.A. Reid & Babyface, Kadis & Sean laid their foundation first by building a brand knowing that when the foundation is set, everything else will follow.
Since scoring a production deal with Geffen/Interscope Records as well as a label home for their Roz Records, Gary "Kadis" Spriggs and Sean Marshall impressed Geffen/Interscope Records Chairman, Ron Fair with a track record boasting an eclectic mix. The two have laid down smooth R&B melodies for artists like Donnell Jones and Young Steff and creating back drops for Lil Wayne and 50 Cent to spit fire to.
Diversity and range also scored them major points on future powerhouses like Steph Jones while dedication to their craft bought them in to helm multi-talented KeKe Palmer's debut album. Originally requested for one track for Palmer's project, Kadis & Sean eventually helped the young siren find her sound.
Hard work and bumps have given Kadis & Sean the drive to stay reaching for the top. With heat coming up on The Game and Gucci Mane as well as plans to step from behind the boards as the group The Chase, the two are extremely excited about their first Grammy Nomination.
Kadis and Sean continue to share their passions and perspectives about life through music, their devotion to their craft and commitment to change is capturing the hearts of people all over world.