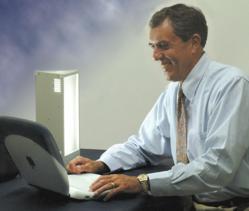 It was almost as if someone turned a switch and I went from blasé to exuberant.
Seattle, WA (PRWEB) January 10, 2013
January's weather and gloomy days can make people feel down. For many it is feeling a loss of energy and enthusiasm for life, a greater appetite and a lower sex drive. These are the common symptoms of Seasonal Affective Disorder (SAD) and its milder form, Winter Blues. January and February are the worst months for SAD.
Symptoms also include a need more sleep, craving for carbs, weight gain, difficulty concentrating, fatigue and depression.
Joe Handelman realized he had SAD after he moved to Seattle in 1999. After a prolonged stretch of dark cloudy weather he experienced a tremendous mood lift while eating breakfast in a window seat of a local diner. When the sun emerged and shone brightly through the window something changed. "It was almost as if someone turned a switch and I went from blasé to exuberant."
Research indicates SAD is linked to a lack of exposure to sunlight during the fall and winter months. Handelman has used a light box each morning for the past ten years. "I remember when I bought the light box and used it for the first time. It had just as dramatic an effect on me as when the sun hit me in the diner. It was instantaneous - my mood was lifted."
A study of over 1000 patients with SAD found that almost 60% had never received treatment for their condition. Handelman's business, Seattle Light Box, recently launched a new program to make it easier for people to see if light box therapy can help. Two week in-home trials are offered for $35. If the light box works, people can purchase a unit, applying their $35 to the purchase. Purchase prices range from $225-$395.
"I'm excited about the whole experience of having people try SAD light box therapy because it was so dramatic for me," Handelman said, "I get to give people the opportunity and if it works, I get to share in that positive change in that person's life."
For more information or to sign up for a two week trial, contact: Seattle Light Box (206) 679-4085 or seattlelightbox(at)gmail(dot)com. Website: http://www.seattlelightbox.vpweb.com