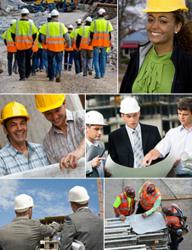 I truly believe Construction Connection exposed me at my most dire time of need, and that was the important stepping-stone for me to… finding the job I have today and being successful. I owe you guys a debt of gratitude.
Dallas, TX (PRWEB) January 10, 2013
Construction Connection, the online industry-specific networking and hiring resource, aims to pair individuals with companies to help people find good jobs and great careers. As the number of jobs in the construction industry grows, Thomas Prazak out of Dallas, a member of the website since 2010, offers insight into the future of the market. Prazak recently reconnected with Construction Connection Co-Founder Suzanne Breistol to thank her for the help the website offered him, and to announce that there are jobs in the industry again. Prazak is now working as the Senior Mechanical Estimator for The Brandt Companies, LLC, a multi-million dollar business.
In a recent interview, Thomas Prazak said, "There is definitely growth in the industry right now. Suzanne [Breistol] mentioned jobs popping up all over Florida; my family and friends living in southern California said the same. In Texas, there are tons of jobs in construction. There is a big boom of manufacturing and other construction companies moving to Texas right now. Anyone with experience working as part of a road crew, working with heavy machinery, concrete, rebar can find work here." Prazak encourages others to sign up on ConstructionConnection.com and start applying. In a hopeful tone, Prazak added, "If they're not working it's because they don't want to; the jobs are out there now."
In accordance with Prazak's insights, the latest Department of Labor statistics forecast growth across the construction industry. In December, nonfarm payroll employment increased by 155,000 in four main industries including construction and manufacturing. Also according to the DOL, the number of construction equipment operators is projected to grow at a rate of 23%, the number of construction laborers and helpers is projected to grow at 25%, and the number of carpenters at 20%. The national average for all occupations growth rate is only 14%. Prazak has his finger on the pulse of the industry, and urges his fellow construction professionals to start looking for jobs again.
Prazak had always been in construction, working in various disciplines: carpentry, concrete, framing, drywall, etc. He has seen the number of available jobs in the industry ebb and flow over the past two decades. To secure his own place in the field, he eventually decided to be a plumber, and from there worked and apprenticed for many years.
Later, in 2010 when construction jobs were scarce, Prazak joined a website called HiringHelper.com, now ConstructionConnection.com. He needed to make a change and advance his career. Though the website was still relatively new at the time, with only a quarter of the reach it has now, Prazak was tired of trying other job sites. They published an interview with him, exposing Prazak to company members, and he was quickly contacted by a recruiting firm.
"I truly believe Construction Connection exposed me at my most dire time of need, and that was the important stepping-stone for me to be contacted by that recruiting firm, finding the job I have today and being successful. I owe you guys a debt of gratitude," said Prazak during his recent interview. When asked if he ever imagined, back in 1992 when he was just starting to work as a plumber, that he would be where he is now, Prazak described his career path as an evolution.
"I started in residential plumbing, then realized there's a lot more to it and I got into commercial work. I moved on to heavy commercial work, joined a Union, and ended in the heavy industrial market," said Prazak. He adds, "I don't think I would be here though, if I hadn't been discovered on the website."
Unlike most job forum websites, ConstructionConnection.com does not use resumes. Instead, the website uses a patent-pending matching system that pairs qualified candidates with jobs that match their skill set and experience. By registering and completing a free online profile, individuals gain exposure to thousands of companies that post jobs for superintendents, project managers, accountants, electricians, engineers, plumbers and many more.
Companies enjoy similar benefits when they complete a free online profile; they are able to post jobs at no cost and are connected to well-qualified candidates whose specialties meet their needs. Both employees and employers looking for jobs or to hire new people can find what they need using the website.
Construction Connection was created out of a need for a more effective and streamlined way for construction industry professionals to get matched with the right industry jobs and with the right industry opportunities. The Co-Founders of Construction Connection, both industry professionals themselves, listened to both company and individuals' dissatisfaction with the traditional job boards, the paid resume blasts, the overpriced resume services and overall lack of sympathy toward the individual candidate. They listened to the dissatisfaction from companies who post jobs only to get many irrelevant results or having to purchase high priced ads to showcase their company. Construction Connection is a patent-pending, one-of-a-kind profile creating / match-making system. The system delivers effective results. Construction Connection saves you time, money and aggravation by matching people to people, people to companies, companies to people, and company to company.