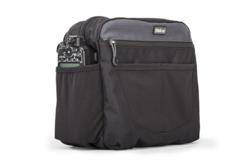 The Change-Up V2.0 camera bag is an exception to the rule; it converts from one great storage solution to another," said Think Tank Photo's Doug Murdoch.
Santa Rosa, Calif. (PRWEB) January 09, 2013
In February, Think Tank Photo will release a completely updated version of its popular Change-Up multi-function camera bag. The Change-Up V2.0 has updated sizing and new features. This bag, a chameleon of sorts, can change from belt pack to shoulder bag to chest pack via the harness system. In addition, many Think Tank Modular and Skin Components can attach to the waist belt straps.
The included compression straps provide for a custom fit. The result of all this flexibility is a bag that can serve many uses: one day it serves as a lens changer, another day it's a conventional shoulder camera bag, and another day it becomes a chest pack. It is this flexibility that makes this bag special and explains why novices to pros love it.
With the ability to carry a standard-size DSLR and a 70-200 2.8, (detached), it has a significant amount of capacity in a lightweight, body conforming shape. Alternately, it holds a standard-size DSLR with 24-70 2.8 attached, plus one to three additional lenses.
"While many camera bags convert from one thing to another, they generally are not great at any one thing," said Doug Murdoch, Think Tank's lead designer and president. "The Change-Up V2.0 camera bag is an exception to the rule; it converts from one great storage solution to another."
Its essential features include:

Can be worn either as a shoulder camera bag, belt pack, or chest pack
Tall design accommodates DSLR equipment easily
Soft, lightweight materials contour to the body
Compression straps to adjust fit
Attachment rail for modular components (6" width)
One-handed zipper opens wide and provides quick access to gear
Easily accessible front organizer pocket
Stretchable side mesh pockets for water bottle or strobe
Durability that you've come to expect from the Think Tank brand
Highest quality YKK zippers
Seam-sealed rain cover included
Change-Up V2.0 enhancements include:

Increased height to fit all 70-200 2.8 lenses
Increased depth of top of bag to fit standard-size bodies
Added compression straps
Increased padding of back panel for added comfort
Belt strap tuck-away function improved by creating two separate pockets
Decreased weight and increased flexibility
Removed rear zippered pocket to allow fit for body while keeping bag slim
Change zipper application to "clam-shell" one handed application (one slider)
Rain cover moved to new zippered pocket on the bottom edge of the front panel
Change-Up V2.0's all fabric exterior is treated with Durable Water Resistant coating while its fabric underside is coated with Polyurethane for superior water resistance. It uses YKK® RC Fuse (abrasion resistant) zippers, brushed 600D polyester, 250D shadow ripstop nylon, 100D ripstop nylon, 420HD nylon, Ultra-Stretch mesh pockets, 3D air mesh, antique nickel plated metal hardware, rock-lockster buckles, high-density foam shoulder strap, nylon webbing, 3-ply bonded nylon thread. Its interior features removable closed cell foam dividers, 210D silver-toned nylon, PU backed velex liner, 2x PU coated nylon 210T seam-sealed taffeta rain cover, 3-ply bonded nylon thread.
Specifications:
External Dimensions: 11.5" W x 10.5" H x 6" D (29.2 × 26.7 × 15.2cm)
Internal Dimensions: 11.2" W x 10" H x 5.8" (28.4 × 25.4 × 14.7cm)
Weight: 1.5-2.2 lbs (0.7-1.0 kg) Minimum weight = two hinged dividers only