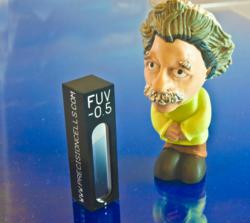 With full NIST-compliance, these incredible calibration standards exceed NIST requirements standards and are changing the way that scientists calibrate their instruments
Farmingdale, NY (PRWEB) January 09, 2013
Modern development of nano-technology has allowed NSG Precision Cells to develop state-of-the art solid-state nano-deposition calibration standards. The purpose of this new reference standard is for the customers to benefit from its easy storage and long-term stability.
NSG Precision is proud to lead the industry with solid-state nano-deposition calibration standards. Since its release, NSG Precision Cells has been advancing in the UV-VIS spectrophotometer standards field. With full NIST-compliance, these incredible calibration standards exceed NIST requirements standards and are changing the way that scientists calibrate their instruments. Information gathered from spectrophotometers calls for the highest accuracy and to assure that final results are exact, a spectrophotometer needs to be calibrated adequately.
The benefits of using NSG's nano-deposition calibration standards are evident. There is no photo chemical degradation that occurs with liquid standards. They are easy to store. There are no chemicals to be mixed and diluted. There are no evaporation problems. There is only long-term stability. And most of all, these calibration standards do not age. Not only so, but there will be no replacing or recalibrating of your standards. They are easy to handle and are very robust due to the scratch resistant coatings. They give highly accurate and consistent calibration every time.
NSG Precision Cell's calibration standards fit into any spectrophotometer so you don't have to worry if they will work in your equipment. The nano-deposition standards are NIST traceable and can test and calibrate photometric accuracy, wavelength accuracy, photometric resolution and stray light effects.
NSG Precision Cells now offers a select line of quality spectrophotometers calibration standards that are affordable and of premium quality. The optics of these premium solid-state nano-depostion calibration standards have been ensured with highest quality results.
As of today, NSG is proud to offer the only spectrophotometer calibration standards that can calibrate both in the UV and VIS range. The FUV-0.5 calibration filter can be used for wavelengths between (200-700 nm) for both Photometric Accuracy and Stray Light calibrations. There is currently no other product on the market that can do this.
NSG's WAV-7 Didymium wavelength calibration standard can be used for both photometric accuracy in the UV wavelength range and wavelength calibration in both the UV and VIS wavelength ranges. Wavelength maximum transmission/absorption values and the wavelength peaks depend on the slit-width (aka- spectral bandwidth; bandpass) of a spectrophotometer. Our trace-tables are available for 2nm spectral bandwidths and might be generated for other spectral bandwidths (0.8-2.2nm) as a special order.
There are numerous companies selling spectrophotometer calibration standards, but what is it that makes NSG's so special? First off, NSG uses patented nano-deposition layering technology that gives NSG's customers the benefit of never having to worrying about recalibration fees. Once the calibration standards have been received by NSG's loyal customers, they can rest assured that the standard will never lose its accuracy due to material aging.
Not only are those things which make NSG better than the competitor with regards to calibration standards. The materials used for these calibration standards are solid, so they do not contribute any noise to the measurements caused by convection currents or striations. Also, these calibration standards cause no evaporation of solvents or any significant photo-decomposition of the material, thus producing long term stability.
About NSG Precision Cells
NSG Precision Cells, Inc. was founded in 1958 and has been growing ever since. NSG Precision Cells, Inc. is a well established, highly regarded quartz manufacturer and we specialize in the manufacturing of quartz flowcells, quartz flow channel cuvettes, quartz microchips, quartz cuvettes, and other quartz optical products.