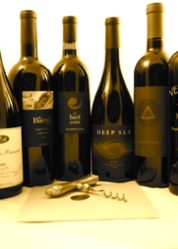 "It is like a wine game and a wine class that I can do with my husband" states Battler Jana Danza.
San Diego, CA (PRWEB) January 08, 2013
After thousands of votes, Wine Battlers have selected the Semi-Finalists in the 'Push Your Palate Battle'. Members of the tournament style wine education site sampled eight boutique red blends and choose four winners. The selection process started nine months ago with the Wine Battles Selection Team Tasting over 60 California Based Red Blends to choose the best eight for the tournament. The tournament combines the exploration of new wines with a competition that teaches participants while members enjoy wine and play in the game.
"Over the last six weeks, our members expanded their wine knowledge while they enjoyed the best red blends we could find," said Steve Frederick, who leads the Wine Battles Selection Team.
"We are proud and honored that we made it into the completion," said Dave Corey, Wine Artist at Semi-Finalist Core Wines. "We are also ecstatic to advance to the Semi-Finals." The other Semi-Finalists are Brassfield Estates' 2010 Eruption, Marilyn Remark's 2008 GSP, and Vermiel Wines' 2008 XXXIV Red Blend.
The Semi-Finals Pairings are as follows:
Battle 1: Starts January 16th
Marilyn Remark Winery 2009 GSP v Brassfield Estate Winery Eruption Red 2010
Battle 2: Starts January 23rd
Vermeil Wines 2008 Red v CORE Wines 2007 Hard Core
Final Battle: Starts February 9th
Winners of Battle 1 and Battle 2
Wine curious people can still get in the action, the website enables people to join in the battle at Semi-Final round. "It is not to late to sign up and you get the best of the best" said Wine Battles CEO Mike O'Brien. Click here to sign up
Email: Jamie Collins (jaimec(at)winebattles(com)com) for more information.
About Wine Battles
Wine Battles is revolutionizing the wine industry. Its tournament-style wine competition allows you to drink, review and vote on wines. Each week of the tournament you and your partner will receive two bottles of wine and help decide the winner. Enjoy the amazing wines we curate, expand your wine knowledge directly from the wine's makers and engage in a social competition where picking the winning wine moves your ranking up! See how it works.