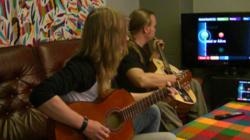 Helsinki, Finland (PRWEB) January 09, 2013
Playing music is relaxing, fun and an enjoyable way to spent time with friends, but learning to play an instrument can often be challenging. In fact, it can be so frustrating that more than half of wannabe-guitarists quit before playing their first song. FourChords Guitar Karaoke App changes this by making the best and latest songs so easy to play that even real beginners can do it. FourChords rearranges the songs into easy versions that can be played with just a few open chords. The App displays these easy chords karaoke-style which helps players keep pace by showing exactly when to play each chord. All FourChords songs come with acoustic backing tracks and lyrics, too.
To help start the year on the right track, FourChords – the Guitar Karaoke App is giving away 50,000 downloads to selected hit songs in January absolutely free.
The song selection will be free to download until all 50 000 chords have been downloaded.
The FourChords Songbook includes rock classics to the latest pop sensations; from The Beatles to Adele, from James Brown to One Direction, and learning to play them has never been easier. The Free offers are for example Let It Be (The Beatles), Set Fire to the Rain (Adele), What Makes You Beautiful (One Direction), I Still Haven't Found What I'm Looking For (U2), Born in the USA (Bruce Springsteen), Foo Fighters, John Lennon, Rihanna and many more.
FourChords Guitar Karaoke is available on Apple iPhone, iPad and iPod Touch: http://fourchords.com/apphd
FourChords App was built by Musopia Ltd, Helsinki Finland. It is a privatly owned iOS Developer Company developing music apps that make playing music easier and accessible to everybody. The developers FourChords are a team of guitar enthusiasts and IT professionals who love getting together with friends and playing music. FourChord App is the first app launched by Musopia, and the plans include similar apps for other instruments such as bass and piano. The great mission of Musopia is to make playing music so easy that everybody can do it.