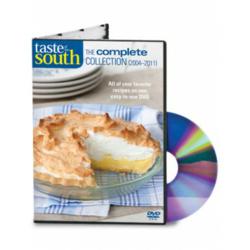 This new DVD collection makes it simple for readers to access all the recipes when and how they wish, without storing stacks of magazines
Montreal, QC, Canada (PRWEB) January 10, 2013
Integration New Media, Inc. (INM), a leader in building engaging digital experiences, announced today the availability of a new digital publishing project built for Hoffman Media. This searchable DVD collection provides instant access to 37 issues, a full eight years, of Taste of the South Magazine the authority on southern cooking.
Taste of the South is a bimonthly cooking publication featuring simple, easy-to-prepare recipes with a Southern flair. It's designed to preserve the past and celebrate the future of Southern food. Each issue contains more than 60 recipes, along with insightful information about the foods of the south.
Taste of the South: The Complete Collection DVD offers readers instant, on-screen access to all 37 issues of the magazine, including out-of-print issues. Readers can easily browse the complete collection, or search by issue, article, recipe or category and bookmark favourite recipes to create their own recipe box.
"Our readers have been asking us for access to back-issues of Taste of the South," said Eric Hoffman, executive vice president and chief operations officer at Hoffman Media. "This new DVD collection makes it simple for readers to access all the recipes when and how they wish, without storing stacks of magazines."
Taste of the South: The Complete Collection DVD is available from the Hoffman Media Store at a price of $49.99.
About Integration New Media
Integration New Media (INM) builds engaging digital solutions that deliver results. For more than 20 years, INM has helped companies create enterprise websites and rich web applications, mobile websites and mobile apps, digital publications and digital archives. The company has a strong emphasis on delivering solutions that balance business objectives, software development best practices and exceed user experience requirements. For more information, visit: http://www.INM.com/
About Hoffman Media
Hoffman Media, LLC (HM) is a privately held, leading special-interest publisher based in Birmingham, Ala. The company specializes in publications targeted to the women's market and the large base of advertisers who seek a print, online and interactive medium to reach this attractive demographic. In addition to publications, HM has a growing consumer event business and an established ancillary products division. For more information, visit: [http://www.hoffmanmedia.com/