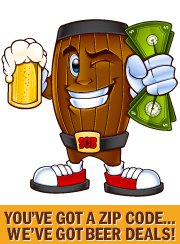 There are so many interesting stories behind the craft beers we know and love.
Houston (PRWEB) January 11, 2013
One of the problems with most beer blogs is that they offer little more than carbon copy reviews and news stories, says SaveOnBrew Content Director Jennn Fusion. Starting this month, SaveOnBrew's Beer Blog will offer exclusive interviews with the people working "behind the scenes" in America's craft brew industry.
SaveOnBrew.com is the world's only beer price search engine. Site operators post the lowest advertised beer deals in U.S. zip codes from coast-to-coast. It's a massive undertaking that is aided by relationships with thousands of retail beer merchants. Their accompanying Beer Blog attracts more than 26,000 unique visitors each month who come for suggestions on new beers to try, holiday lists, information about homebrewing, and the latest beer news.
"Going into 2013, I wanted to take a new approach to beer blogging," says Fusion. "Anyone can publish a blog and share their passion for beer. We thought it would be neat to introduce readers to some of our friends in the beer brewing world so they could learn more about the process of brewing their favorite beers and what it takes to transform a hobby into a full-fledged enterprise."
She adds, "There are so many interesting stories behind the craft beers we know and love. So we will be sharing these tales with our readers – many of which are home-brewers and aspiring entrepreneurs themselves. I think, over the next year, you're going to see beer blogs being used to educate and swap insightful stories with greater frequency."
The first featured interview was with Zane Lamprey, an "international beer ambassador" and TV show host for Three Sheets and SpikeTV's Drinking Made Easy. Upcoming interviews include professional beer tasters, brewmasters, pub owners, beer retailers, inventors, and distributors. Industry professionals who wish to be interviewed are invited to contact Jennn Fusion directly with editorial suggestions.
Readers can find the lowest beer prices and exclusive content at SaveOnBrew.com.
About SaveOnBrew.Com: Founded in 2010 to help thirsty beer drinkers across the United States find the lowest advertised prices for one of the world's most popular beverages.