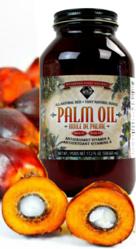 Sozo Nutritionals sells only Red Palm Oil derived from sustainable and responsibly grown Palm farms
Dallas, Tx (PRWEB) January 09, 2013
Natural Red Palm Oil is making headlines as the latest superfood to excite and astound the natural health world! Long used around the world as a staple in tropical cuisine and as a medicinal food new research suggest that Red Palm Oil may in fact be a superfood of monumental proportions.
Red Palm oil is remarkable high in both Vitamin A and in Vitamin E as well as a variety of other antioxidants and phytonutrients. One reason Red Palm Oil so intriguing is that while most Vitamin E supplements on the market today are composed of the more common tocopherols, the tocotrienols found in high levels in Red Palm Oil are believed to be a much more potent antioxidant than the more common tocopherols according to exciting new research. Red Palm Oil is one of your best sources for Vitamin E, especially the potent tocotrienols.
Sozo Nutritional's President Brandon Larson states, "While Red Palm Oil has been available commercial in the US for some time it is not until recently that we have been able to really understand its amazing benefits versus other oils." Larson continues, "it has also been a somewhat controversial product because of deforestation caused by some commercial Palm farms across the world." Larson states that Sozo Nutritionals sells only Red Palm oil derived from sustainable and responsibly grown Palm farms that utilize the most organic and natural methods of production.
Sozo Nutritionals as seen records sales this month as the popularity of Red Palm Oil continues to rise. However, not all Palm Oils are the same and very few offer the actual benefits due to harsh processing and low quality farming. Sozo Nutritionals states that in order to assure you get the actual benefits from Red Palm Oil you should only purchase 100% natural, "Red" Palm Oil that is unrefined, unbleached and not-deodorized. All of which strips away the vitamin and phytonutrients of the finished product.
Sozo Nutritionals is an online retailer of premium dietary supplements and natural health products made in the U.S. Sozo Nutritionals is devoted to assisting others in reaching their weight loss goals, improving their lives, and helping countless others Discover a Whole New You! Visit http://www.sozonutritionals.com to begin your journey into a healthier lifestyle.