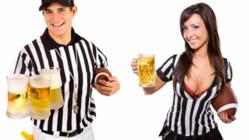 Americans will spend at least $49.3 million buying beer during the two weeks prior to Super Bowl Sunday
Houston, TX (PRWEB) January 30, 2013
Americans will spend at least $49.3 million buying beer during the two weeks prior to Super Bowl Sunday, according to 2011 Nielsen data. Nielsen says grocery retailers sell 17 million cases of beer during that time alone, which makes the Super Bowl the seventh biggest holiday for beer sales.
Most Americans (9 out of 10) will watch the Super Bowl at home or a friend's house, rather than at a bar. While this will help consumers save money, there are ways to save even more, says Jennn Fusion, head content director at SaveOnBrew.com.
1. Find a good, cheap brand of beer. "I love savoring tall pints of Guinness, Franziskaner Weissbier, and Warsteiner when I'm really craving beer," says Fusion. "But let's be honest with ourselves: Super Bowl Sunday is a day where it's easy to drink a bigger quantity of beer and we're too distracted with the game – and the commercials – to really be paying full attention to our beer anyhow. So why not go with something a little bit easier on the wallet?" She recommends something like Yuengling Lager, Dundee Original Honey Brown Lager, Shock Top, Shiner Bock, Killian's Irish Red Ale, or Rolling Rock Extra Pale Ale.
2. Make a bet. "If you have good luck at gambling, why not bet someone a case of beer over the predicted winner of the game? There's a 50 percent chance you'll win." One can also bet beer based on the scoring spread.
3. Shop the rebates. "Unfortunately, there is currently no site where you can find a listing of all the ongoing beer rebates," Fusion explains. "However, your friendly local beer store should be able to point you in the right direction. Here in Buffalo, we go to Consumer's Beverage Center, which prominently displays rebates on the beer coolers. You just ask for the rebate card at check-out and I've saved as much as $8 on a 12-pack that way." She also notes that rebates aren't available in all states.
4. Brave Costco or Sam's Club. "Consumer Reports had a group of average, untrained beer drinkers try Costco's Kirkland brand of beer versus Sam Adams, Sierra Nevada and Paulaner brands. They found that people liked the Kirkland beer – which sold for $19 a 24-pack compared to $35 for the premium craft brands – just as much, if not more." Kirkland comes in a multi-pack of German Style Lager, Pale Ale, Amber Ale, and Hefeweizen. The trained beer tasters said the premium brands were more "complex, flavorful, and clean-tasting" – but the Kirkland varieties were "party-worthy." CostCo and Sam's do not always have the best deals though, and that's where searching the SaveOnBrew database can pay off. "We can usually save a consumer about 25% off if they buy their beer when it's on sale at a local retailer."
5. Consult SaveOnBrew.Com. SaveOnBrew is accessible by PC or mobile device in all 50 U.S. states. Consumers simply type in a zip code to receive a listing of beer sale prices in their geographic area. They can narrow the search by brand, retailer, or beer type – and receive a map to the nearest location selling discount beer.
"We're also working on something we call 'Beer Alerts,' which will send you a text or email if your favorite brand of beer goes on sale within the next few weeks, saving you from the hassle of price-tracking," Fusion adds.
In addition to finding the cheapest beer prices, the Cheap Beer Blog offers suggestions on selecting mind-blowing new craft beers, as well as finding quality beer for cheaper prices. They've also created an infographic illustrating the beer "cycle of life" for the super bowl. For more information, one can visit http://www.SaveOnBrew.com.
# # #
About SaveOnBrew.Com: Founded in 2010 to help thirsty beer drinkers across the United States find the lowest advertised prices for one of the world's most popular beverages.