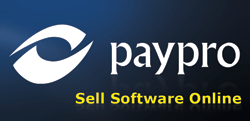 "As a Prolexic customer, PayPro Global is now fully protected against all types and sizes of distributed denial-of-service attacks, whether from an individual or a well-organized group of cybercriminals with significant botnet resources."
Toronto, Canada (PRWEB) January 09, 2013
PayPro Global the global provider of innovative tools and solutions to sell software online announced today its partnership with Prolexic, the global leader in DDoS protection and mitigation. The latest addition to PayPro Global's e-commerce infrastructure will ensure its stability and considerably reduce vulnerability to DDoS attacks.
In an effort to protect PayPro Global's partners from unexpected outages and transaction halts, the company's executive board made the decision to collaborate with Prolexic. A 3000% increase in DDoS attacks throughout the industry in 2012 motivated the decision. E-commerce sites and providers are frequently subjected to these acts. Such was the case for PayPro Global's solution to sell software online.
"The DDoS attacks against PayPro Global are proof that practically anyone can launch a DDoS attack these days," said Stuart Scholly, president at Prolexic. "As a Prolexic customer, PayPro Global is now fully protected against all types and sizes of distributed denial-of-service attacks, whether from an individual or a well-organized group of cybercriminals with significant botnet resources."
Prolexic has a dedicated DDoS mitigation network well in excess of 500 Gbps extensively distributed among multiple carriers to protect against any potential DDoS attacks. The availability of this bandwidth for DDoS gives Prolexic a distinct advantage over any ISP that relies only on its own backbone for capacity.
Upon activation of DDoS protection, a Prolexic customer routes in-bound traffic to the nearest Prolexic scrubbing center, where proprietary DDoS filtering techniques, advanced routing, and patent-pending anti-DoS hardware devices remove DDoS traffic close to the source of the botnet activity. Clean traffic is then routed back to the customer's network. Prolexic currently has a vast network of scrubbing centers located in London, Hong Kong, San Jose, California and Ashburn, Virginia.
"DDoS attacks become more frequent and complex year by year, presenting a major threat to various online businesses around the world. We just cannot let cyber criminals stand in the way of our partners' success. A downtime of only a day in our infrastructure could mean major financial losses to our partners and to us as a result. After exploring and testing numerous options on the market, we chose Prolexic, as its DDoS protection system showed the best results in repelling cyber-attacks. We are confident that through the partnership with Prolexic, downtimes will become ancient history for our company," said Matthew Silverman, CEO of PayPro Global.
About Prolexic
Prolexic Technologies is the world's largest, most trusted distributed denial-of-service (DDoS) protection and mitigation service provider. Able to absorb the largest and most complex DDoS attacks ever launched, Prolexic protects and quickly restores mission-critical Internet-facing infrastructures for global enterprises and government agencies. Ten of the world's largest banks and the leading companies in e-commerce, SaaS, payment processing, travel hospitality, gaming and other industries at risk for DDoS attacks rely on Prolexic for DDoS protection. Founded in 2003 as the world's first in-the-cloud DDoS mitigation platform, Prolexic is headquartered in Hollywood, Florida, and has DDoS scrubbing centers located in Americas, Europe and Asia.
Website: http://www.prolexic.com
Phone: +1 (954) 620 6002
Twitter: @Prolexic
About PayPro Global
Founded in 2006, PayPro Global, Inc. develops and hosts an e-commerce solution that allows anyone to easily sell software online. PayPro Global supports more than one hundred currencies, all major credit and debit cards, and a wide variety of payment options. The company also offers software developers state-of-the-art licensing, activation, and anti-piracy protection for their applications.
PayPro Global is headquartered in Toronto, Canada, with development center in Ramat Gan, Israel and regional offices in New York, USA, and London, UK.
Website: http://www.payproglobal.com
Twitter: @paypro_global