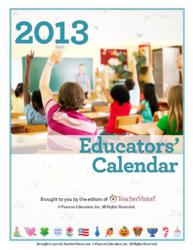 The 2013 Educators' Calendar offers engaging learning activities, lesson plans and other resources...
BOSTON, Mass. (PRWEB) January 09, 2013
Teachers can make every day a celebration with the holidays, special events and important days in history featured on TeacherVision's 2013 Educators' Calendar. Now available on TeacherVision.com, this year's calendar includes an activity for each event listed, putting thousands of ideas to stimulate students' creativity at teachers' fingertips. Designed to meet the needs of all educators, the calendar is available as an interactive feature online, a printable PDF, or a free widget for featuring on a blog.
"Discussing and celebrating holidays, significant dates in history and birthdays of important public figures provides teachers with a great way to make learning come alive for their students," said Jess M. Brallier, publisher, TeacherVision. "The 2013 Educators' Calendar offers engaging learning activities, lesson plans and other resources to support the thousands of creative teachers who turn to TeacherVision every year for new ways to encourage learning in their classrooms."
Major holidays, such as Martin Luther King Day, Valentine's Day, Chinese New Year, Halloween and Fourth of July, are featured on the site with plenty of lessons, projects and activities for celebrating with students. However, every day is a holiday on the 2013 Educators' Calendar, where teachers will find smaller, more unusual reasons to celebrate. For example, January 29 is Puzzle Day, and teachers can help their students celebrate with tangrams, word finds, math squares and other fun and educational puzzles. On May 16, Biographers Day, teachers can encourage their students to read full-length biographies or even write their own life stories. September 30 marks International Translation Day, and the 2013 Educators' Calendar provides great ideas for discussing foreign languages with students – even teaching them a few new words.
The calendar also presents teachers with great resources for discussing major historical events. For example, April 6, 1896, marked the beginning of the first modern Olympics, and teachers and their students can learn about the advent of the Games and what happened at that inaugural event. On June 18, they can explore the War of 1812 on the day that President James Madison signed a declaration of war against Great Britain.
The 2013 Educators' Calendar includes activities for celebrating monthly events as well. For February, Black History Month, the calendar highlights resources on the contributions of African Americans, from Harriet Tubman to Barack Obama; during Women's History Month in March, the calendar features female historical figures, such as Susan B. Anthony, Eleanor Roosevelt and Sally Ride.
The 2013 monthly calendar for teachers is one example of the many quality resources and classroom tools that are regularly added to TeacherVision. To receive updates on the site, special offers and new resources, educators can sign up for TeacherVision's free teacher newsletters, "Great Stuff for Teachers" and "Special Offers for Teachers."
Teachers can also visit TeacherVision on Pinterest (http://pinterest.com/teachervision/), Facebook (http://www.facebook.com/TeacherVision), Google+ and Twitter to find more great ideas for integrating current and historical events into their teaching calendar throughout the year.
About TeacherVision
TeacherVision is the Internet's most popular teacher site for trusted online tools, lesson plans, printables, classroom management resources and skill-building exercises that help teachers save time and make learning fun. TeacherVision.com is dedicated to supporting children's learning in school and in life.
TeacherVision is part of Pearson, the education, services and technology company. Pearson's other primary operations include the Financial Times Group and the Penguin Group.