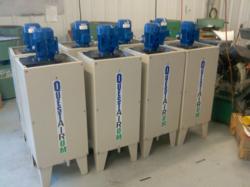 Exposure to mineral oil mists can cause eye, skin, and upper respiratory tract irritation as well as central nervous system effects in humans. (OSHA Guidelines, [Hathaway et al. 1991])
Oxford, MA (PRWEB) January 10, 2013
The Quest Air OM500 has become a popular system for air pollution abatement. It's high efficiency, and low cost has pushed it to the front of the class for oil mist collection.
IPG Photonics is a world-class company that believes in manufacturing the best quality equipment for its customers and has chosen Aquest Corporation to improve their work environment.
The Quest Air OM500 is small in design with a base of 16" by 16". It can be placed on top of a CNC machine, on the floor, or hung from the ceiling.
Companies are becoming proactive in reducing the levels of air pollution in their facilities because studies have shown respiratory tract irritation and central nervous system effects in humans.
OSHA has become aware of the health risks relating to oil mist and other pollutants in the air at machining and manufacturing companies because of the increase in employee complaints.
Aquest Corporation has engineered an air pollution abatement system for the removal of harmful contaminants in plant air and mist created by machining with oils.
The Quest Air OM500 air pollution abatement system filters air at low micron levels and exhausts air into a facility that is 99% clean.
The OM500 is capable of filtering mist laden air for a long period of time, due to it's unique filter design and technology. Filter replacement is low cost and easy to do.
The Quest Air unit is also designed to return oils capture from the air stream to a CNC machine or process. This eliminates the need to dispose of oils collected.
Aquest Corporation and it's engineering team continue to make progress in improving environmental health and air pollution abatement systems. Energy savings and low operational and maintenance costs are what make the Quest Air OM500 a popular choice among manufacturers in New England.