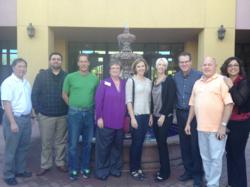 Implementing the new knowledge and techniques I learned was my greatest challenge in private practice. Being involved in the dynamic learning environment of a study club allowed me to fulfill my vision of a comprehensive restorative practice. -Frank Spear
Clackamas, OR (PRWEB) January 10, 2013
Local Dentists and Specialists are participating in Portland's first Laboratory led 'Frank Spear Study Club'. Digital Dentistry is rapidly changing with new technology, digital cad/cam and new products. There is a large demand on dentists and specialists to be highly educated in the technology as well as implementing these technologies into their practice.
Spear Education Center is on the leading edge of technology and has incorporated the latest technology into their Study Club Modules. Spear Study Clubs foster interdisciplinary relationships and lead to better treatment planning for patients, as well as practice growth for members and leaders. What makes Spear Study Clubs unique is the integration of solid, evidence-based clinical instruction and online learning into an all-inclusive turnkey program that is easy to implement. We provide a complete leadership solution that invites interdisciplinary collaboration and delivers benefits to both specialists and general practitioners.
Ken Lande Dental Lab is proud to be the Northwests' first "laboratory led" Study Club. As a member of a 'Laboratory Lead' Spear Study Club, you will dedicate yourself to the development of higher levels of clinical, diagnostic and treatment-planning skills, and continue your journey to 'Better Dentistry'. "Implementing the new knowledge and techniques I learned was my greatest challenge in private practice. Being involved in the dynamic learning environment of a study club allowed me to fulfill my vision of a comprehensive restorative practice."
Frank Spear, D.D.S., M.S.D.
Lande Dental Lab was founded in 1985 by Ken Lande; Ken brings over 46 years of experience in the dental industry to each client relationship and to each product created in his family-run lab.
LDL is committed to providing exceptional dental solutions for its clients. We are extraordinarily proud of our commitment to education and to the lasting relationships and bonds we have forged with our family of dentists that we serve in the greater Portland area and beyond.