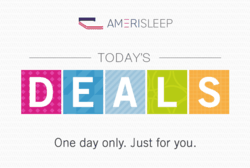 Tempe, AZ (PRWEB) January 09, 2013
As shoppers seek more ways to save, daily deals continue to prove popular with retailers and buyers alike. With this in mind, memory foam mattress retailer Amerisleep.com recently launched their own daily deals program complete with webpage and notifications.
Each day, they plan on offering a new limited-time promotion. Shoppers will be able to view the mattress deals on Amerisleep's sale page. The featured deal will showcase the product, size, and main details, while alerting shoppers to the remaining time or quantity left. This page will also feature current coupon codes and other available discounts.
The first promotion offered provides big savings on the entry-level Columbus bed, with $350 off the retail price for a queen size, available for 24 hours only. Other deals currently available include $250 off any mattress, savings on adjustable beds and accessories, and the Drive Green promotion for hybrid and electric vehicle owners.
In addition to visiting the website, customers can sign up for alerts via email to be notified of each day's deal. This service is perfect for those who might have their eye on a specific bed or are not quite ready to buy, and do not want to miss an opportunity to save.
The company hopes to attract greater interest and promote customer loyalty with the new service and continued social media awareness. Initial responses and increased email sign-ups indicate customers are receiving the new program well, which the retailer sees as a positive sign. Upcoming deals will include Amerisleep's top-rated mattresses, as well as adjustable beds, pillows and bedding.
Amerisleep, owned by online retail collective OneMallGroup, retails highly-rated memory foam mattresses, adjustable beds and related accessories, in business since 2008. The company defines itself by exclusively offering American-made, environmentally sustainable products at competitive prices. Visit Amerisleep.com for more information.
# # #