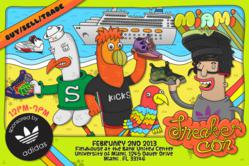 "I love the show. [Sneaker Con] is a great way to connect and shake hands with our core customers." - Ray Guilbault (owner 8&9 Clothing)
Miami, FL (PRWEB) January 14, 2013
8&9 Clothing is well known for its loyal following among east coast sneaker heads. The brand will debut its Spring 2013 streetwear collection at the show in its hometown of Miami. Sneaker Con Miami will be held at the Fieldhouse at the Bank United Center on campus at University of Miami.
Sneaker Con is the premier traveling event for sneaker connoisseurs to buy, sell and trade some of the most sought after footwear on the market. Miami's show always has a huge turnout. This sneaker show is a favorite of sneaker heads for the great assortment of vendors and collectible sneakers that range from Nike, Jordan, Adidas and more. Attendees can also expect a range of streetwear brands including local 8&9 Clothing.
Founder and creative director of 8&9 Clothing says of Sneaker Con, "I love it. We're hitting every city with Sneaker Con's 2013 tour. It's a great way to connect and shake hands with our core customers."
Follow @8and9 and @sneakercon on twitter or instagram for more details.
EVENT DATE
12:00pm to 7:00pm
Saturday, February 2nd, 2013
EVENT LOCATION
Fieldhouse at the Bank United Center
University of Miami
1245 Dauer Drive
Miami , FL 33146