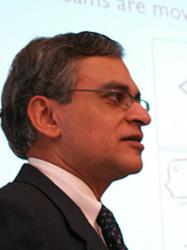 Atul brings unmatched diversity in experiences that span a wide range of industries and challenges to help companies grow.
San Jose, CA (PRWEB) January 09, 2013
Businesses in the Bay Area and Lake Tahoe region are getting a new resource as Reno, Nevada based entrepreneur and proven business executive Atul Minocha joins the ranks of Chief Outsiders. Chief Outsiders is the nation's largest executive marketing firm focused on implementing market based growth plans for mid-size and growth companies through fractional or part-time marketing executives. As a Chief Outsider, Atul will assist growth-oriented businesses achieve their performance goals as a part time or interim senior marketing executive.
"With over 25 years of rich marketing & entrepreneurial experience in a diverse set of industries and geographies, I can help growth companies with brand strategy and positioning, channel expansion, strategic and tactical pricing as well as sales and marketing alignment including design of compensation plans. I'm excited to bring my expertise to Chief Outsiders and its growing portfolio of clients", said Atul Minocha.
Atul capped off his marketing career as worldwide Chief Marketing Officer of Kodak Health Imaging division where he was responsible for all marketing activities around the world. In that role, he brought multitude of marketing offices around the world under one roof for aligned and collaborative marketing. While at Kodak, he was also named President of Auntminnie.com – a leading web-portal for radiologists.
Atul started his marketing career (and his love-affair with marketing) helping Toyota get started in a difficult and highly competitive marketplace in India.
After earning an MBA from Yale University, Atul joined Cummins Engine Company and helped increase market share of their consumer-oriented products in Europe and the United States. Atul continued his career in marketing with Graco and as Director of Product Marketing at Honeywell's Automotive Aftermarket division. Atul has also headed the marketing operations of Smith & Nephew's Orthopedic Division and overall operations of Cardiac Safety Services of Covance, Inc.
In addition to his role at Chief Outsiders, Atul is an Associate Professor in the Department of Business & Entrepreneurship at Sierra Nevada College at Lake Tahoe. He is actively involved in the Young Entrepreneurs Program and recently led a group of Nevada and California based entrepreneurs on a mentoring trip to South Africa.
"Atul brings unmatched diversity in experiences that span a wide range of industries and challenges. As a marketer and business strategist, he has proven his ability to understand challenges faced by companies at various stages of their operation, and use his knowledge and experience to develop and implement growth plans that are practical and provide sustained benefits", said Art Saxby, founder and principal at Chief Outsiders.
Atul has an undergraduate degree in Mechanical Engineering from the prestigious Indian Institute of Technology in Delhi, India and an MBA from Yale University. Atul has also completed an executive education program in e-Business from Northwestern University's Kellogg School of Management.
About Chief Outsiders
Chief Outsiders, headquartered in Houston, TX, is unique among strategic marketing consulting firms, taking growth and mid-sized companies to the next level with outsourced CMO services. Unlike most marketing consulting firms, Chief Outsiders believes that delivering a world-class marketing strategy creates very little value. The value is created by helping the organization implement the growth vision.
Regional offices serve clients across the country and are located in Texas, Pennsylvania, New York, New Jersey, Connecticut, Georgia, Nevada and California. Chief Outsiders has been a premier source for marketing expertise, execution and leadership for companies such as KBC Engineering, Alen Air Purifiers, Bethyl Labs, NetworkIP, Blickman, and Certified Steak & Seafood. For more information, please visit http://www.chiefoutsiders.com.