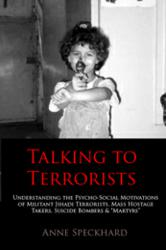 "Talking to Terrorists is an arresting, highly readable book that has made a major and classic contribution to our study and understanding of terrorism." --Stephen Sloan, The Memorial Institute for the Prevention of Terrorism
(PRWEB) January 09, 2013
An internationally recognized expert on the psychological aspects of terrorism, Speckhard defines the "lethal cocktail" that leads to the creation of a terrorist and importantly, offers thoughtful suggestions on how to potentially prevent, deradicalize and rehabilitate a terrorist. Her journey took her into the intimate spaces of terrorists' homes, inside their prison cells, to the streets of their cities and villages, and into the recesses of their minds. She recounts how terrorist leaders cynically manipulate vulnerable individuals into believing that the struggle they fight is a cosmic one, that excessive means are called for and that giving your life is a rational choice to make in behalf of the cause.
Speckhard offers possibilities for achieving a safer world by examining ways society and governments can help a potential terrorist reverse his or her trajectory. While her husband, a U.S. Ambassador, oversaw U.S. interests in Iraq, Belarus, Greece and NATO, Speckhard raised three children while conducting research that often took her into risky places to meet dangerous men and women.
About the Author: Anne Speckhard, Ph.D., is an Adjunct Associate Professor of Psychiatry at Georgetown University Medical School and has been working in the field of post-traumatic stress disorder (PTSD) since the 1980's. Dr. Speckhard lectures to security experts worldwide and consults for the U.S. Department of Defense and European and Middle Eastern governments on programs for prevention and rehabilitation of individuals committed to political violence and militant jihad.
For more information about Talking to Terrorists, please visit http://www.advancespress.com or contact Roberta Rossi at 202-492-8972 or Email:RobertaRossi(at)advancespress(dot)com