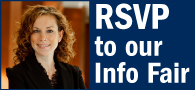 St. Louis, MO (PRWEB) January 09, 2013
The School for Professional Studies at Saint Louis University will hold two information fairs in February.
St. Louis Campus - Wednesday, February 6
Time: 5:30 – 7:00 p.m.
Location: Boileau Hall located at 38 N. Vandeventer Avenue
Belleville Campus - Tuesday, February 5
Time: 5:30 – 7:00 p.m.
Location: St. Elizabeth's Medical Arts Building located at 180 South Third Street
Light appetizers will be provided at both info fairs.
The sessions will include information about the B.A. in organizational studies and the B.S. in organizational leadership and technology as well as minor/certificate programs in contract management, hospitality management, industrial psychology, organizational leadership, sales leadership and strategic communications.
Learn more about SLU's

Flexible, accelerated degree-completion options available, including 20 fully online programs
Affordable tuition rate (half the cost)
Scholarship and financial aid info
Your career opportunities with SLU's career-focused programs taught by industry-expert faculty
The easy application process — there's still time to enroll for Spring!
For more information or to RSVP, visit busyadults.slu.edu or call (314) 977-2330 or (800) 734-6736.