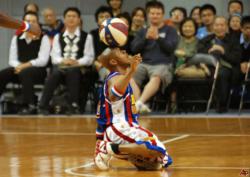 Denver, CO (PRWEB) January 09, 2013
After some 90 years, the Harlem Globetrotters can still hoop it up, much to the delight of fans of all ages. From their incredible ball-handling and trick shots to their fan-friendly courtside comedy routines, the team still knows how to win over the crowd.
This year's trek, dubbed the `You Write the Rules' tour, lets local fans decide the rules before each game. These rules could involve anything from playing with two basketballs at once to 4-point shots. The rule with the most pre-game fan votes is then used in the actual game.
The tour has upcoming performances in Estevan, Regina and Saskatoon, Saskatchewan, and Rockford, Illinois. Stops in Kalamazoo, Michigan and the Illinois cities of Springfield, Champaign and Carbondale are planned next – along with games in Edmonton, Calgary, and Grand Prairie in Alberta.
"Online traffic for the Harlem Globetrotters has been spiking," said Felina Martinez at online ticket marketplace BuyAnySeat.com. "Not only are tickets selling out for cities later in the tour, the upcoming run through Saskatchewan and the Midwest is beginning to fill up quickly.
"Since the audiences are usually comprised of family members of all ages, we're proud to be able to offer fans a complete selection of Harlem Globetrotters tickets, with a worry-free guarantee to protect their purchase," said Martinez.
"To access the constantly refreshed selection of cheap Harlem Globetrotters tickets we have available, fans can go to BuyAnySeat.com and search for Harlem Globetrotters – then select their tickets," said Martinez.
The Globetrotters originated on the South Side of Chicago, Illinois in the 1920's where all of the original players grew up. Over the years, the team has evolved into an exhibition basketball franchise known for its players' amazing ball-handling tricks and athletics moves – and flair for court-side comedy and theatre.
Recently the team introduced the 4-point shot from a 35 foot arc and a penalty box for any `funny business' by a player. Plus, all of the penalties in a game are typically assessed against one of the Globetrotters due to their playful antics.
Over the years, the team has played more than 20,000 exhibition games in 120 countries. Former Globetrotters include Wilt "The Stilt" Chamberlain, Connie "The Hawk" Hawkins, Nat "Sweetwater" Clifton, Marques Haynes, Meadowlark Lemon, Jerome James, Reece "Goose" Tatum and Hubert "Geese" Ausbie. The team's signature song is "Sweet Georgia Brown" by Brother Bones. (Source: Wikipedia.com)
To shop for cheap Harlem Globetrotters tickets, visit BuyAnySeat.com.
About BuyAnySeat.com: An online ticket marketplace, BuyAnySeat.com connects sports, theater and other live entertainment fans to an extensive worldwide network of ticket sellers. The site's simplified listings and navigational tools enable fans to easily locate, compare and purchase inexpensive, discounted or lower-priced tickets to virtually all advertised sports and entertainment events around the globe. The site, which is PCI-compliant and Norton Secured, also provides customers with a complete Worry-Free Guarantee on all ticket purchases. Based in Denver, Colorado, BuyAnySeat.com is a subsidiary of Denver Media Holdings. For more information, please visit http://buyanyseat.com.