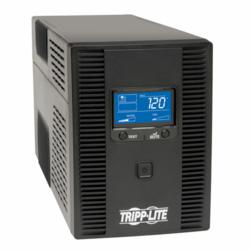 the advanced LCD that automatically shows estimated battery runtime takes the guesswork out of how much longer a user can continue working on their computer
Chicago, IL (PRWEB) January 09, 2013
Tripp Lite, a world-leading manufacturer of power protection and connectivity solutions, has introduced two new economical UPS systems that provide protection from blackouts, brownouts and other power problems while keeping the user constantly informed through an easy-to-read LCD control panel. The two models are a great value, as they are significantly less expensive than both competitor and previous Tripp Lite models.
These new UPS systems, the SMART1500LCDT and SMART1300LCDT, prevent data loss to connected computers and lost DVR recordings in home theater systems with features like dependable battery support, automatic voltage regulation (AVR) and surge suppression. Battery support ensures ample time to manually save data and shut down equipment or users can install Tripp Lite's PowerAlert Software to do those tasks automatically.
Key Features and Benefits:

LCD control panel with six selectable screens of UPS and site power data, allowing better power management of equipment
In the event of a power failure, the LCD automatically displays estimated runtime for connected equipment
AVR feature automatically adjusts incoming voltage to safe levels without using battery power
Built-in Tel/DSL/Ethernet and Coaxial surge suppression jacks protect sensitive equipment from damaging spikes and surges
Built-in USB port and PowerAlert Software (free download) monitors power conditions, controls UPS systems and automatically shuts down systems during a power failure
"Our new UPS systems provide solid power protection and a great set of features," said Rich Feldhaus, Tripp Lite Product Manager. "And the advanced LCD that automatically shows estimated battery runtime takes the guesswork out of how much longer a user can continue working on their computer before the battery is depleted."
For more information on the new UPS Systems, go to: Tripp Lite economical UPS Systems with Real-Time Data Display.
To download product images, go to: Tripp Lite SMART1500LCDT product images.
About Tripp Lite
Outstanding product reliability and exceptional service have been Tripp Lite trademarks for 90 years. Tripp Lite's innovations include the world's first UPS system designed specifically for personal computers, and the world's most trusted premium surge suppressor--the Isobar®-with more than 18 million in use. Tripp Lite maintains the highest level of ready-to-ship inventory in the industry with more than 2,500 different products, including UPS systems, rack systems and cooling solutions, PDUs, PowerAlert software for enterprise-level system management and control, surge suppressors, KVM switches, cables and connectivity products, inverters, power strips and notebook accessories. Headquartered in Chicago, Illinois, Tripp Lite maintains a global presence with fully staffed offices worldwide. Additional information, including a list of Tripp Lite's sales offices and authorized reseller partners, can be found by visiting Tripp Lite's website: http://www.tripplite.com.