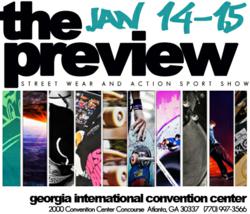 "We're excited to show at Preview. It's a great way to connect with our current retailers and a chance to make new partnerships." - Ray Guilbault (Owner 8&9 Clothing)
Miami, FL (PRWEB) January 11, 2013
On January 14 & 15, buyers will head to Atlanta for The Preview Tradeshow where streetwear brands and skate companies will show their latest collections. Miami-based street lifestyle company 8&9 Clothing will showcase new lines for spring and summer 2013.
The Preview is the Southeast's hottest new trade show featuring a fashion mash up of the industry's coolest skate, street & urban lifestyle brands. The Preview is a fashion experience held at Atlanta's trendy Georgia International Convention Center (GICC).
8&9 Clothing is well known for it's loyal grass roots following on the East Coast. Working between Miami and New York 8&9 will show at The Preview trade show for the first time. Owner Ray Guilbault says "We're excited to show at Preview. It's a great way to connect with our current retailers and a chance to make new partnerships."
8&9 is an independent company known for poignant graphics and colorways drawn from classic and current footwear. Graphic inspirations in the line range from pop culture, to music, the streets and politics. There's definitely more to 8&9 clothing than the average person will see on the surface making it a brand of choice for tastemakers & discerning shoppers. For more about the 8&9 life follow @8and9 on twitter or instagram.