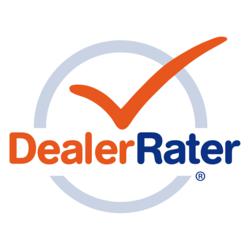 Now in its third year, the Award Program promises to be an exciting contest among many stellar dealerships committed to outstanding customer service throughout North America
WALTHAM, Mass. (PRWEB) January 09, 2013
DealerRater, the world's premier car dealer review web site, today announced the launch of the 2013 Dealer of the Year Award Program. This highly anticipated annual award program recognizes a select group of car dealerships in the United States and Canada for outstanding customer satisfaction as expressed through consumer reviews posted on DealerRater's web site during the 2012 calendar year.
DealerRater's popular and competitive Dealer of the Year awards are presented each February to car dealerships that demonstrate the highest PowerScore™ in their brand category. Each dealership's PowerScore is determined using a Bayesian algorithm that considers the dealership's average DealerRater rating and the total number of reviews written about the dealership during the previous calendar year. The dealership must also have a minimum of twenty-five (25) new reviews written on DealerRater's web site during the previous calendar year and an average rating greater than 4.0, with 5.0 as the highest possible score.
Dealer of the Year recognition will be awarded to dealerships on a national brand and state brand level. In addition, one dealership will be chosen as the overall Dealer of the Year for 2013. This dealership will be recognized for having a PowerScore that outranks all other brand-specific Dealer of the Year winners.
"The Dealer of the Year Award Program has grown increasingly competitive each year as dealerships have accepted the vital role that consumer reviews and online star ratings play in strengthening their brand and driving business growth," said Chip Grueter, president of DealerRater. "Now in its third year, the Award Program promises to be an exciting contest among many stellar dealerships committed to outstanding customer service throughout North America."
The 2013 Dealer of the Year award winners will be announced at the upcoming NADA General Conference & Exposition in Orlando, Florida on February 8-11, 2013. DealerRater will be exhibiting at the conference with Booth # 3353.
About DealerRater:
DealerRater was founded in 2002 as the first car dealer review website worldwide. DealerRater is the world's #1 online resource for anyone seeking trusted third-party information on automobile dealerships. DealerRater features nearly 40,000 U.S. and Canadian car dealers, more than 900,000 consumer reviews and over 1 million cars for sale. DealerRater attracts more than 9.5 million consumers every year who visit the site to search for car dealerships, read reviews, write their own descriptive reviews, and find car deals – all for free.