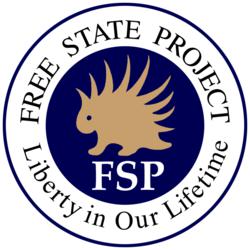 "Based on the overwhelming media response we're getting – even more so than when we had Ron Paul, Mary Ruwart or John Stossel – it seems like the ideas of liberty are finally catching on." Carla Gericke, FSP President
Nashua, NH (PRWEB) January 09, 2013
Today the Free State Project announced the speakers at its sixth annual Liberty Forum, and the lineup is sure to draw liberty-minded people from all over the world to the Live Free or Die state – even if just for a weekend. Regarded as one of the most prestigious liberty conferences in the world, the 2013 Liberty Forum will be held February 21-24 at the Crowne Plaza Hotel in Nashua and feature speeches from a variety of leaders in the liberty movement.
"In order to attract as many people as possible, we tried to get speakers across a broad range of subjects," says Chris Lawless, the event's organizer. "Looking for tech stuff and intellectual property? We've got Cory Doctorow. How about alternate currencies like BitCoin? Come hear Roger Ver and Charlie Shrem speak. We have Jeff Tucker and Tom Woods for economy wonks, Jack Spirko for survivalist types, and Aaron Day of The Atlas Society for those who want to hear more about Objectivism. We also plan to announce more speakers soon."
In addition to regular speeches and TED-like 30-minute talks, the Liberty Forum also features discussions on everything from art as activism and knowing your rights to austere medicine and where to find jobs in New Hampshire. There are also off-site events organized, such as a tour of the New Hampshire State House. Additionally, after-hours gatherings will showcase the projects of local liberty activists.
"Based on the overwhelming media response we're getting – even more so than when we had Ron Paul, Mary Ruwart or John Stossel – it seems like the ideas of liberty are finally catching on," says Carla Gericke, President of the Free State Project.
VIP tickets to Liberty Forum, including all speeches, meals and VIP perks are $309 each. Adult tickets including speeches and meals are $209, and speech-only tickets can be purchased for $109 each. All tickets can be purchased at the Free State Project's website. A full list of speakers, events and sponsorship information can be viewed at the Liberty Forum's website. Liberty Forum is brought to the community by Free Keene and Silver Circle, and is still accepting sponsors. Follow the Free State Project on Twitter and become a fan of the FSP Facebook page to get the latest news and information about Liberty Forum speakers.
Reporters interested in obtaining media passes to the event are encouraged to contact Kari DePhillips at kdephillips@FreeStateProject.org. Interviews with Carla Gericke, Chris Lawless or any of the Liberty Forum speakers can be arranged via the same email address.
The Free State Project is a movement to recruit 20,000 liberty-lovers to New Hampshire, where they will exert the fullest practical effort toward the creation of a society in which the maximum role of the government is the protection of life, liberty and property. So far, 13,596 people have signed up as participants of the FSP and over 1,100 have already made the move.